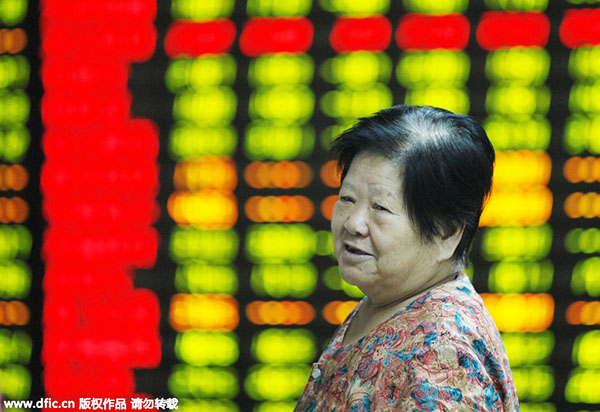 An investor is checking stock indexses in Fuyang, Anhui province, June 29, 2015. [Photo/IC]
Chinese stocks edged down amid volatile trade, with the benchmark Shanghai index swinging the most since 1992, despite the rate cut announced over the weekend.
The Shanghai Composite Index slumped 3.3 percent to close at 4,053.03 on Monday, extending the loss from its peak on June 12 to more than 20 percent. The gauge swung between a loss of 7.6 percent and a gain of 2.4 percent within the market hours.
The Shenzhen Component Index sank 5.8 percent to 13,566.27 at the close.
"Interest rate cut and targeted reserved requirement ratio (RRR) cut simultaneously are a dramatic move. But the market has been anticipating such a move," said Hong Hao, chief strategist at BOCOM International Holdings, in a note released on Monday.
The People's Bank of China has lowered the RRR by half a percentage point and the benchmark interest rate for a third time this year by 25 basis points, announced the central bank on Saturday.
The one-year benchmark deposit rate has been lowered by 115 basis points since the beginning of this year and is now 2 percent, while that of the lending rate has been cut down by 100 basis points in total to 4.85 percent.
"Traders will likely seize the fleeting technical reprieve to exit their positions, and continue to induce short-term volatility," said Hong, adding that the outstanding balance of margin trades through non-brokerage channels can be double the official data of as high as 2 trillion yuan ($322.2 billion).
"The risk led by margin trading is manageable, as pressure tests have shown that the overall leverage ratio is still in check and below the cautious line," said a spokesperson of the China Securities Regulatory Commission in a written reply to media enquiries on Monday.
The forced closure of margin trades over the past two trading days via the HOMS system amounted to no more than 4 billion yuan, and another 2.2 billion yuan was closed on Monday morning, added the spokesperson.
The outstanding balance of margin debt on the Shanghai Stock Exchange fell for a fifth day as of Friday, according to the bourse's data.
Regulators are considering suspending initial public offerings to stabilize the country's tumbling stock markets, reported Bloomberg citing insiders familiar with the matter.
The CSI 300 gauge closed at 4,191.55 points on Monday, down 3.3 percent.