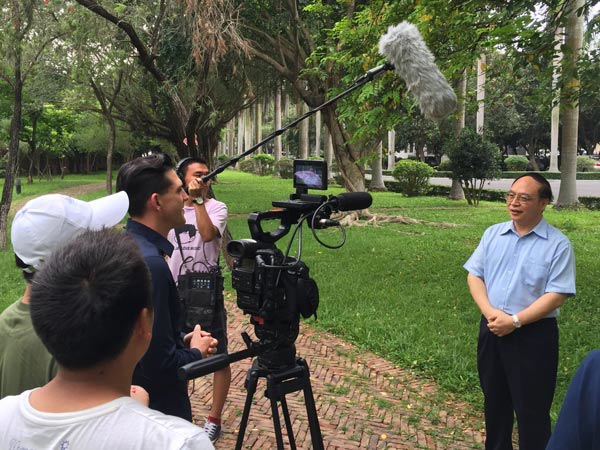 Liu Xiaohua, party secretary of Zhanjiang,interviewed by reporter from China Daily on May 12, 2015 in Zhanjiang city, Guangdong province. [Zhang Xiao/chinadaily.com.cn]
"Zhanjiang will seize the historical opportunity and take responsibility as the city has been considered one of the strategic pivots in implementing China's belt and road initiative," Liu Xiaohua, party secretary of Zhanjiang, said.
Liu made the statement when participating in a documentary called Zhanjiang Blue, filmed by China Daily.
According to Liu, the city's attraction for external investors is the deepwater port located at Zhanjiang Bay. "Relying on the sea to be developed, one will become more beautiful and competitive in the future," Liu said.
Currently, investments from Baosteel Group and Sinopec have contributed to the development of the city.
Apart from promoting economic growth, the city will protect the environment, keeping both the air and water clean and fresh, according to Liu.
Zhanjiang city, in the southernmost part of the Chinese mainland and Southwest of Guangdong province, covers the northern part of the Leizhou Peninsula.
Facing Southeast Asia, it is at the meeting point of the provinces of Guangdong, Guangxi and Hainan.
It has a long history that can be traced more than 2,000 years when it was the departure point for China's merchant fleets that headed to Southeast Asia.
The city was recognized as one of 14 open coastal cities in 1984.
With a population of 8 million, Zhanjiang has three county-level cities (Leizhou, Lianjiang and Wuchuan), two counties (Xuwen and Suixi) and four districts (Xiashan, Chikan, Potou and Mazhang).
With a State-approved economic and technological development zone and six province-approved economic development zones, an all-around opening-up pattern has gradually taken shape.
The Layout and Planning of Zhanjiang Industries and Industrial Parks (2011-2015) points out that the strategy for future development will focus on the "five major industries" -- steel, petrochemicals, paper, tourism and logistics.