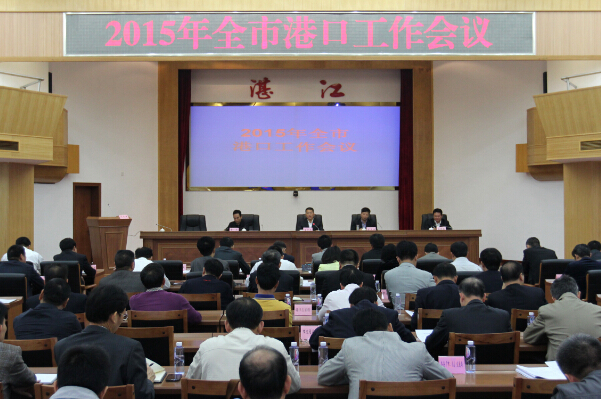 Zhanjiang mayor Wang Zhongbing attends the 2015 Municipal Port Work Conference on February 26.
Zhanjiang Port will look beyond the Zhanjiang Bay to forge a port cluster surrounding the Leizhou Peninsula that can serve as an international shipping hub in South China Sea.
Zhanjiang mayor Wang Zhongbing said on the 2015 Municipal Port Work Conference yesterday that the city should go further in port development. He said that Zhanjiang should strive to build a port cluster, which in turn could drive the whole city's development. The developing strategy "One County One Port, One Port One Park" has been designed, which means each county in the city should establish at least one port, and each port should be equipped with one industrial park.
Zhanjiang Port is one of the first self-designed modern deepwater ports constructed since the People's Republic of China was established in 1949. The port has made great strides in recent years, transformed from a small port that could accommodate tens of millions of tons in shipments into a large international port that has a throughput capacity of over 200 million tons.
The port was centered on the Zhanjiang Bay, the throughput of which has almost saturated, while a large part of the coast outside the Zhanjiang Bay is untapped for port construction.
According to the Zhanjiang Port Comprehensive Planning(2008-2020) compiled by the municipal government, the port will be divided into 12 harbor districts, with a port coastline stretching 164 kilometers. The port coastline outside the Zhanjiang Bay is planned to extend 102.7 kilometers, which is now less than one kilometer.
Wang Zhongbing said the overall planning needed further improvement to specify tasks for all parties. A bonded logistics center will be built in the Zhanjiang Bay this year. Port construction in each county will be advanced orderly, and the construction of linking-up roads between ports will be given priority.
Wang stressed that the counties should design practicable port planning that gave full play to the role of market to promote port and port industry development.
Zhanjiang possesses the longest coastline among all cities in China, and the natural conditions of the coast are ideal for building ports. Although the city was listed among the first open coastal cities as early as 1984, port construction and development far lagged behind many other coastal cities in South China and East China.
The city is now striving to become an international pivotal city given its superior geographic conditions and its proximity to ASEAN. Zhanjiang has been authorized as a strategic pivot city along the 21st Maritime Silk Road.
According to the Zhanjiang Port Comprehensive Planning (2008-2020), the cargo throughput of Zhanjiang Port is expected to exceed 3 hundred million tons by 2017, which will make it one of the most important ports in South China Sea along the new Maritime Silk Road. A total investment of 34 billion yuan ($5.43 billion) will be put into the city's port construction.