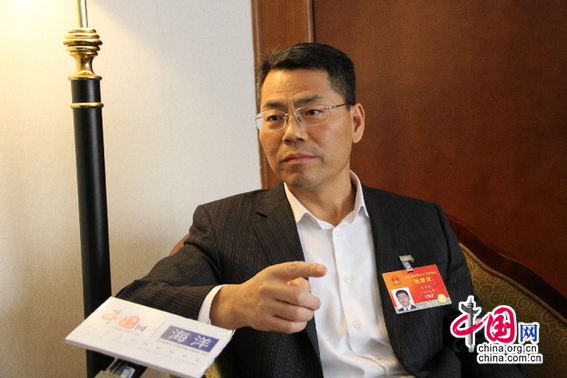 Zhanjiang mayor Wang Zhongbing talks with a reporter from china.org on March 8.
Zhanjiang has got ready for integrating into the Belt and Road Innitiative and building a strategic pivot city along the 21st Maritime Silk Road,Zhanjiang mayor Wang Zhongbing said.
Wang Zhongbing gave interviews about Zhanjiang's development blueprint to several key central news websites in Beijing including chinadaily.com, takungpao.com, and china.org during the weekend.
He told reporters that the city will take full advantage of its port resources and superior geographical position to build the strategic pivot city for China's maritime cooperation in the 'Belt and Road' initiatives.
Wang Zhongbing said that Zhanjiang boasted a natural deep water port, and the city's proximity to ASEAN gave it a remarkable competitive edge in foreign trade with the ASEAN countries. The annual China Ocean Economy Expo will be an important platform for the city to connect with the countries along the 21st Maritime Silk Road and showcase its beauty to the world, the mayor said.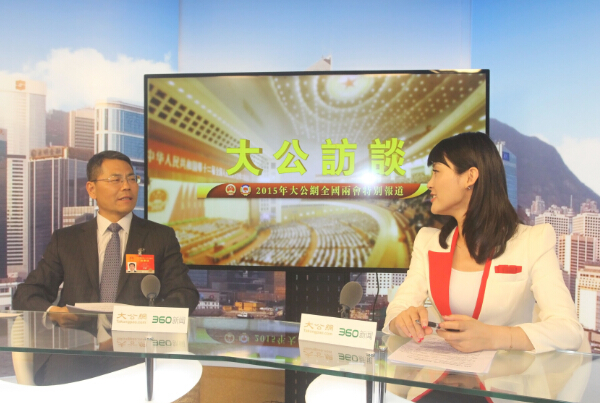 Zhanjiang mayor talks with a reporter from tukungpao.com on the evening of March 7.
The city will build the maritime strategic pivot city from five aspects including navigation, city construction, manufacturing, marine science and innovation and tropical agriculture, Wang said.
Zhanjiang has been striving to become a leading marine city. Wang said the city will continue to push forward the development of the port industrial parks, such as the Baosteel and Sinopec projects in Zhanjiang.
Zhanjiang will also advance the coordinated development of urban and rural areas, and promote equal access to public services in a broader scope, Wang said.
Wang Zhongbing also said the city will give equal weight to development and ecological protection. He said Zhanjiang was a city where people can take deep breaths freely and see the twinkling stars, and the city will never trade economic growth with environment.
Zhanjiang boasts unique marine tourism resources, and the Provincial Games will be an important opportunity for the city to draw visitors, who will come here for sightseeing, investing or living, Wang Zhongbing said.