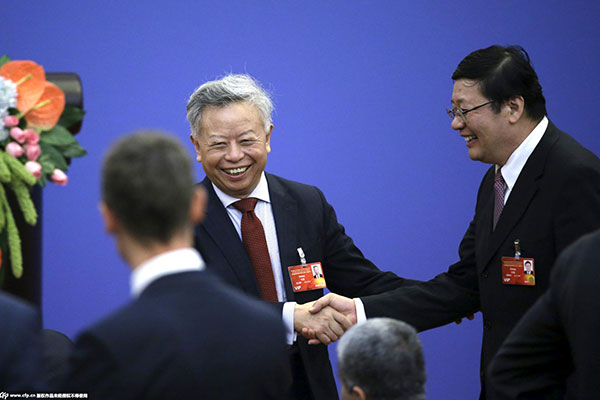 Jin Liqun (L), secretary general of the Multilateral Interim Secretariat of Asian Infrastructure Investment Bank (AIIB), shakes hands with China's Finance Minister Lou Jiwei ahead of a signing ceremony of articles of agreement of the Asian Infrastructure Investment Bank (AIIB), at the Great Hall of the People in Beijing, June 29, 2015.[Photo/CFP]
BEIJING - China has formally nominated Jin Liqun, former vice finance minister of China, as the Chinese candidate for president of the Asian Infrastructure Investment Bank (AIIB), the country's Ministry of Finance (MOF) announced on Monday.
Jin was nominated by the Chinese government based on procedures approved by finance ministers of the AIIB founding members in Beijing on June 29. A major agreement which outlines the framework and management structure for the institution was signed during the meeting, the MOF said in a statement.
Jin Liqun, born in 1949 and currently the secretary-general of the interim multilateral secretariat for establishing the AIIB, has garnered rich leadership and management skills through multiple work posts both in the government and international organizations.
During 2003 and 2008, Jin was vice president and ranking vice president of the Asian Development Bank (ADB) in charge of programs for South, Central and West Asia and private sector operations.
He is also former chairman of the supervisory board of the China Investment Corporation, and former board chairman of the China International Capital Corporation Limited.
According to the AIIB's president election process, the president should be a citizen within the Asian region. The election will be conducted through open and transparent procedures, and based on candidates' competency.
Founding members of the AIIB should nominate their candidates before July 31 before a final list of candidates is confirmed in late August. When the AIIB is formally established, the president will be elected from among the candidates.