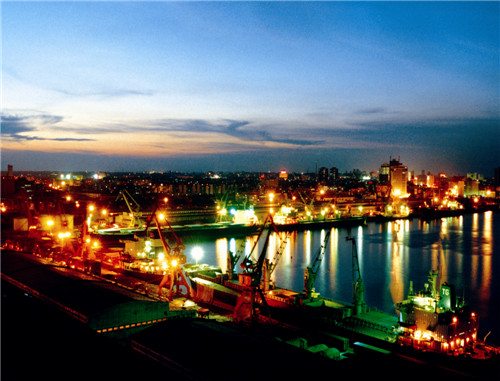 Zhanjiang Port.
Zhanjiang will forge six pivots to be fully integrated into the Belt and Road Initiative as a hub port.
Zhanjiang mayor Wang Zhongbing yesterday told reporters from Renmin Daily that the city will endeavor to drive the industrial and urban transition to adapt to the "new normal" , and forge six pivots to be fully integrated into the Belt and Road Initiative.
Wang said Zhanjiang is speeding up the development of modern port industries and transformation of traditional industries as part of its efforts to upgrade the industrial structure. The municipal government is also constructing the southern "maritime valley", an innovation platform for strategic emerging industries.
The mayor has also put forward the concepts of "sponge city, sustainable city and footprint city", which is intended to make the city more livable.
Zhanjiang, a coastal city located at the southernmost tip of the Chinese mainland, has been designated as a pivot city along the 21st Century Maritime Silk Road. It's China's portal city facing the ASEAN countries surrounding the South China Sea.
Wang said Zhanjiang will forge six "pivots" for the Belt and Road Initiative.
First, an international hub port will be established. Zhanjiang Port will be further expanded, with the construction of a 400,000 ton-grade navigational channel and a bonded logistics center underway.
Second, urban construction will be accelerated and opening up will be furthered. The city will speed up urbanization and promote equal access to public services in urban and rural areas. The city will also expand economic and cultural exchanges and cooperation with countries along the 21st Maritime Silk road.
Third, the city will go full steam to develop port industries, led by major projects including the Zhanjiang Baosteel Base, Sinopec refining project and papermaking projects.
Fourth, Zhanjiang will implement the innovation-driven development strategy. The city will strive to develop its marine economy reliant on the marine scientific and technological innovation.
The southern "maritime valley" will be established into an innovation platform based on industry-university-research cooperation. Emerging industries including maritime equipment, cold-chain logistics, information consumption, bio-pharmacy will be given priority here.
Fifth, the city will establish a manufacturing base for shipbuilding and maritime equipment.
Sixth, Zhanjiang will develop tropical agriculture by taking advantage of its superior geographical conditions.