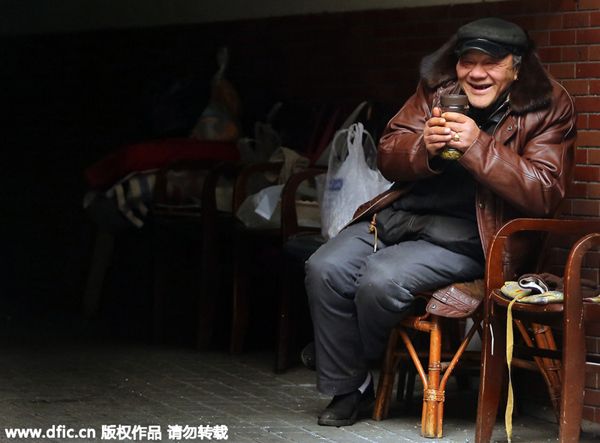 An elderly man sips tea and sits on a warm afternoon in Shanghai, Feb 2, 2015. [Photo/IC]
BEIJING - China's pension fund is probably to be allowed to invest into the stock market to keep value and improve management as the country faces the challenge of an aging population.
An official draft guideline released on Monday gives the fund the greenlight to invest in the stock market but restricts the maximum proportion of investment in stocks and equities to 30 percent of total net assets.
The move is to improve investment management and supervision of the social security fund and diversify investment channels, said a statement from the Ministry of Human Resources and Social Security (MHRSS) and Ministry of Finance.
In China, urban employees pay for their pension before retirement and usually get a pension equal to about half of their previous salary. Outstanding contributions to the fund stood at 3.06 trillion yuan (around $500 billion) at the end of 2014.
However, money in the fund, roughly 90 percent of the country's total social security fund pool, was previously only deposited in banks or invested in treasury bonds, which has been strongly criticized due to rigid management and low returns.
An estimate from Chinese Academy of Social Sciences (CASS) said China's pension fund depreciated by nearly 100 billion yuan in the past 20 years, taking inflation into account.
Experts and retirees have for years called for diversified investment but the government has remained cautious due to an immature domestic market. But a recent bull run and improved supervision has built enough confidence for the authority to finally make a move.
Besides stock market, the fund may be invested in government and corporate bonds, major national construction projects and leading state-owned enterprises.
"The guideline lifts restrictions and will awaken enormous sleeping capital," said Xiong Hui, social security expert with Southwest University of Political Science & Law, suggesting that burdens on the government and employers will be relieved.
The impact on the stock market may be limited as analysts see the move as more of a policy breakthrough than a practical boost to shares.
Zheng Bingwen, researcher with CASS, predicted that around only around 300 billion yuan in the fund will be channeled into the market, far below the 30-percent cap.
However, unexpected volatility in market has heaped worries on the prospects for the new policy. Major indices for Shanghai and Shenzhen exchanges tumbled 3.34 percent and 5.78 percent respectively on Monday.
In terms of risk control, MHRSS said managers will be asked to set up reserve fund valued at 20 percent of management fees and 1 percent of yearly returns to offset losses.
In the bigger picture, the guideline is the latest attempt by the government to address the problems of an aging population, including a diminishing work force growth and weak domestic consumption.
China's senior citizens over 65 years old make up over 10 percent of the country's population and the ratio may rise to a third by 2050. A country is considered an aging society if the ratio is higher than 7 percent.