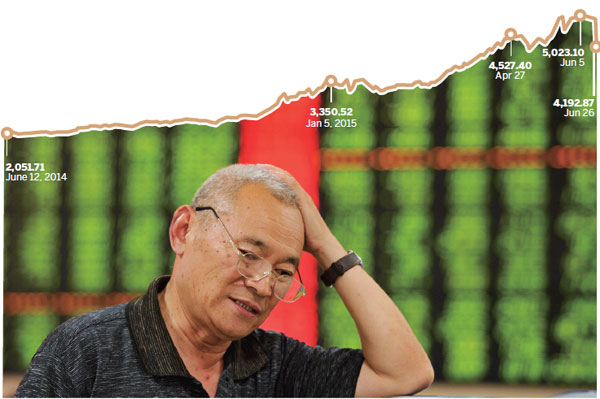 An investor frets over falling stock prices at a brokerage in Fuyang, Anhui province, on Friday. The benchmark Shanghai Composite Index fell by 7.4 percent, the sharpest daily drop since June 10, 2008. [Lu Qijian / For China Daily]
Investors make for the exits, with analysts saying market heading toward 'bear territory'
Chinese equities plunged on Friday with the benchmark index suffering the worst single-day decline in seven years and moving toward what analysts said is bear-market territory.
The Shanghai Composite Index tumbled by 7.4 percent, or 334.91 points, to close at 4,192.87.
About $767 billion in market value was wiped off, with more than 2,000 stocks falling by the 10 percent daily trading limit.
Losses were even heavier on ChiNext, the country's Nasdaq-style startup board, with its index dropping by nearly 9 percent, the biggest decline since it was launched in 2010.
In just two weeks, the benchmark Shanghai index has retreated by 18.8 percent from a peak of 5,166.35 on June 12. Most analysts define entering a bear market as a decline of 20 percent from a recent peak.
Analysts said Friday's sell-off hit market sentiment hard, with investors dumping stocks because they saw little hope that the decline could be the buying opportunity they had anticipated earlier.
The sharp correction was attributed by observers to tightened liquidity conditions triggered by the regulator's crackdown on illegal leveraged trading and a new wave of initial public offerings as well as uncertainty over the government's monetary easing policy.
Jiang Chao, an analyst at Haitong Securities, said the short-term liquidity-driven bull market seemed to have ended.
"We have noticed a subtle change in government policy, as the previous round of monetary easing seems to be giving way to more emphasis on fiscal stimulus," he said in a research note.
Analysts said the recent recovery in property sales, a possible rebound in inflation, and an expected economic stabilization in the second half of the year had delayed the need for policymakers to inject more liquidity to prop up the economy.