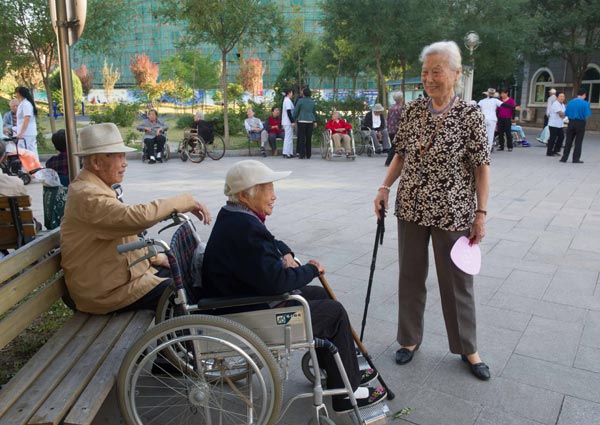 Senior citizens chat at a retirement home in Beijing. [Photo/Xinhua]
Premier Li Keqiang has said in the Government Work Report that basic pension standards will be raised by 10 percent this year. Although this reflects the government's concern about retirees, it has sparked a debate on the sustainability of the pension scheme because the authorities have also decided to extend the retirement age.
According to the latest official data, in 2013 the national average pension was 1,914 yuan ($305), or about 43 percent of the average monthly wages before retirement, and the accumulative balance of the national pension fund was 2.83 trillion yuan, or 5 percent of GDP. The overall pension income and expenditure in 2013 was 2.17 trillion yuan and 1.85 trillion yuan, accounting for 3.8 percent and 3.2 percent of GDP.
Urban pension funds are managed by local governments, not the central government, and there are 2,000-odd fund pools nationwide. Compared with some other countries, this is a low social pooling level and can seriously harm the financial sustainability of the pension insurance system. Specifically speaking, under the current system, two explicit pension debts have become a cause of concern.
First is the empty personal accounts. The personal accounts have always been empty since they were established two decades ago, with the premiums paid by employees and employers having been used to pay retired people's pension.
The central government started expanding pilot projects in 2001 to solve the "empty personal accounts" problem. The real contributions to personal accounts across the country add up to 415.4 billion yuan, with the credit on account reaching 3.51 trillion. The balance of China's pension insurance fund is 2.83 trillion yuan, so theoretically the gap in pension fund is not serious. But since the balance is concentrated in the eastern region, it is difficult to achieve financial defined contribution to personal accounts because of the low social pooling level. A defined contribution plan is a type of retirement scheme in which the employer or employee, or both contribute to a pension fund on a regular basis.
Second, almost half of China's provinces, especially the central and western provinces, cannot make ends meet when it comes to pension payment; they rely on financial subsidy to meet their pension expenditure. In 1998, pension transfer payment amounted to only 2.4 billion yuan, which sharply increased to 65.1 billion yuan in 2005 and 301.9 billion yuan in 2013. From 1998 to 2013, the overall financial transfer payment added up to 1.82 trillion yuan, which is equal to about two-thirds of the entire pension fund balance.