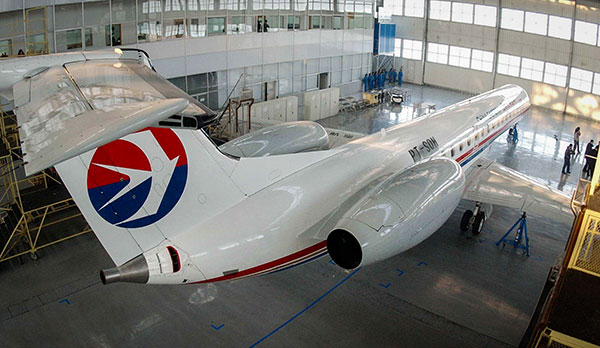 An ERJ145 airplane that Embraer China delivered to Tianjin Airlines at the end of 2009. Bloomberg had earlier reported that the company was considering shutting the plant in Harbin, Heilongjiang province, due to slow sales. [Photo/Xinhua] 
Brazilian aircraft manufacturer Embraer SA on Friday denied reports that it was considering closing its business-jet factory in China and said its unit was functioning normally.
Bloomberg had earlier reported that the company was considering shutting the plant in Harbin, Heilongjiang province, due to slow sales. The report said the Harbin plant had deliveries of just two Legacy business jets this year, citing an unidentified person.
Embraer China said they have no comments on the report, as they had no idea about Bloomberg's sources.
The joint venture between Embraer and Harbin Aircraft Industry Group, a subsidiary of Aviation Industry Corporation of China, was established in 2002 and it used to work on the final assembly of ERJ145, a twin-engine aircraft. However, the unit shifted to the final assembly of Legacy 600/650 business jets in 2012, as per an agreement between the two shareholders.
Industry sources said that it costs more to build business jets in China due to the higher taxes.
The assembly line in Harbin needs to pay a tax of more than 22 percent for parts import, which is a big burden, Guan Dongyua, president of Embraer China, said during the 2015 Asian Business Aviation Conference and Exhibition in Shanghai in April.
China will need at least 835 new business aircraft, accounting for 9 percent of the global new deliveries, from 2015 to 2024, according to Embraer's market outlook released in February.
According to the sources, most of the other business jet manufacturers in China are also in a similar predicament as the market has been witnessing a downturn since last year.
With China's economy moving toward "new normal" and an era of slower economic growth, the demand for business jets is not as strong as before. On the other hand, some potential buyers have also developed cold feet due to the ongoing austerity and anti-graft campaigns of the government.
China's business jet fleet saw growth fall to 15 percent in 2014, compared with 34 percent in 2013, said a report from Asian Sky Group, a Hong Kong-based business aviation consulting firm.
Yet another factor that has hit companies like Embraer is the shifting preferences of Chinese consumers. Most of them are now opting for medium-sized or small aircraft, rather than large ones.
"Client demand for business jets is getting more sophisticated in China," said Guan, adding that the middle-sized business jets offer advantages like better economic efficiency and flexibility. In addition, civil aviation authorities have also been encouraging business jet operators to diversify their business.
Jin Junhao, director of the Civil Aviation Administration of China general aviation department, however, said business jets will be a major transport tool in the future.