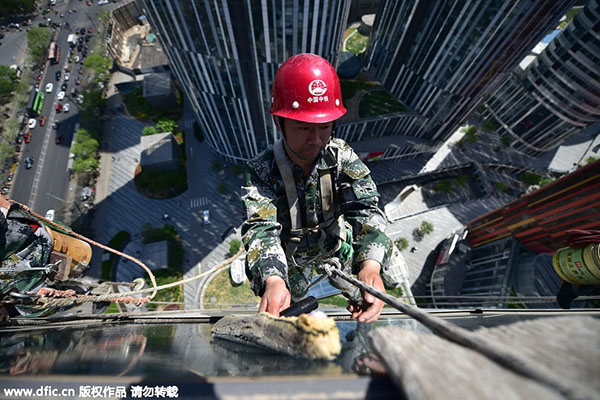 A Chinese migrant worker cleans the exterior window of a high-rise building in Beijing, China, April 24, 2015. [Photo/IC]
The Chinese government announced key details to support more migrant workers, veterans and university graduates to establish businesses back home, building new foundations to diversify development in the nation's western region and rural areas on Friday.
Xin Changxing, vice minister of the Ministry of Human Resources and Social Security, said the government will promote business start-ups back home with industrial relocation. Regions with net migration should be encouraged to assist the migrants' regions of origin in building industrial parks, facilities and training bases.
Migrant workers who have succeeded in starting up their business are encouraged to expand in these industries in their hometown and build enterprises there.
Channels of finance will also be further extended, related taxes and fees will be reduced, and various groups including scientific researchers, college students and rural labor force are encouraged to start up their own businesses.