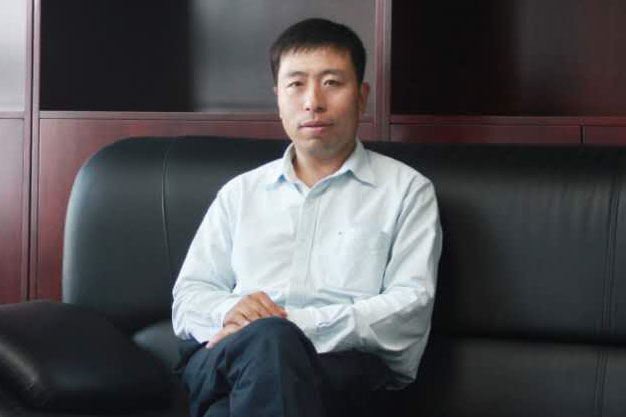 Hao Jianming, chairman and CEO of Nasdaq-listed Sino Mercury Acquisition Corp (SMAC). [Photo provided to chinadaily.com.cn]
Editor's note: The first quarter of 2015 is the beginning of China's "new normal" economy, meaning the nation is moving toward a slower, but more sustainable growth rate.
During the first three months, China's economic growth fell to a six-year low of 7 percent, buffeted by sharp declines in industrial production and real estate construction. Meanwhile, fixed-asset investment growth dipped to a historic low of 13.5 percent, compared with the average of 15.7 percent last year.
In March, China's industrial output growth dropped to a post-crisis low of 5.6 percent, down from 6.8 percent in the first two months of the year and from 7.9 percent in December. Year-on-year retail sales growth in March slowed to 10.2 percent, the lowest level since March 2006, compared with 10.7 percent in the first two months.
China Daily asked a cross-section of senior executives from a variety of multinational companies with operations in China to offer their thoughts on the "new normal" economy and their plans in the near future.
Here are the answers from Hao Jianming, chairman and CEO of Nasdaq-listed Sino Mercury Acquisition Corp (SMAC). 
Q1. Although the GDP growth rate has fallen to 7 percent in the first quarter from 7.3 percent in the fourth quarter last year, the dip has not surprised the market. Some analysts have said the drop in the growth rate is good for structural adjustment and transformation. What's your view?
Hao: Reforms usually take place when there is economic downturn. Although people often say that it's the outside world that pushes reform, which now has become a mantra, it's not true. When there is economic slowdown, the country will stimulate the market by launching major reforms, thus prompting market rejuvenation.
Under normal circumstances, if the economy is progressing well, the country would only make some corresponding adjustments; but if the economy is always in a state of downturn for a long period of time or the GDP is consistently lower than expected, that will activate national reform. This kind of reform is implemented through structural adjustment, because the development of the economy is bound to create some excess layout in some areas, while other areas will remain relatively poor. The GDP has dropped to 7 percent in the first quarter, and I think it is likely to be not very ideal in the second quarter and even in the third quarter. That is also the basis of reform and the basis of national fiscal policy as well as monetary policy adjustments. GDP has now become an indicator of national reform and the motivation to push forward, as well as the basis for improvement.
Q2. In March Premier Li Keqiang announced a growth target of "around 7 percent" for 2014. Do you think the target is achievable, especially when both the global and domestic economies aren't picking up as fast as they should?
Hao: The green GDP with 7 percent target is achievable and acceptable. Although the GDP in the past was high, most of it was achieved through large amount of investment, and even many inefficient investments in some fields. Such a GDP is not high quality, nor is it environmentally protective. If our green and environmental protection GDP reaches 7 percent through reform, I think that is a GDP of high quality and one I am willing to accept. The only problem now is how long the relatively low level of GDP will last. It looks like that GDP will still not be optimistic in the fourth quarter. We hope that China's GDP or the economy will bottom out in the fourth quarter, of course, which is my optimistic forecast and also the basis of China's economy becoming better and better through reform. If this rate can be achieved, which will also well explain the reform of China's utility has been produced, it would make the year 2016 an ideal year.