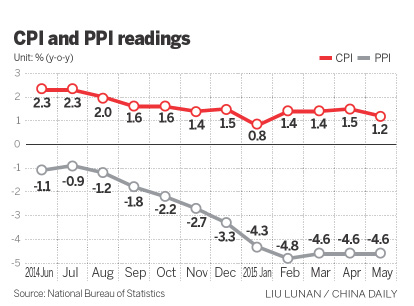 CPI falls to 1.2% last month, decelerating from 1.5% in April
Persistent weakness in Chinese inflation may cause deflation in the country, economists have warned, after May's Consumer Price Index retreated to a four-month low.
Inflation's main gauge fell to 1.2 percent last month, lower than market expectations and down from 1.5 percent in April, the National Bureau of Statistics said on Tuesday.
Australia and New Zealand Banking Group Ltd immediately cut its whole-year inflation forecast to 1.5 percent from the previous 1.8 percent following the official announcement.
The latest CPI reading, ANZ Bank said in a report, means China's domestic demand has remained weak and the risk of deflation is increasing, which may force policymakers to further ease monetary policy to prevent economic stagnation.
The official data showed food prices rose 1.7 percent year-on-year in May, down from 2.7 percent in April, contributing 0.54 of a percentage point to the headline figure.
Non-food CPI rose 1 percent year-on-year, compared to 0.9 percent in April.
Yu Qiumei, a senior economist at the NBS, explained CPI had weakened as favorable weather conditions led to an easing in prices for fresh food, such as vegetables and fruit.
Zhu Haibin, chief economist in China at JPMorgan Chase & Co, said the fall in May CPI was mainly due to a base effect-the consequence of abnormally high or low levels in inflation in the corresponding month a year earlier, which can distort headline numbers-as inflation turned upward "rather notably" from 1.8 percent in April to 2.5 percent in May last year.
This May, industrial deflation continued as the Producer Price Index dropped by 4.6 percent from a year earlier. It has been in negative territory now for 39 consecutive months.
On a month-on-month basis, however, the decline of the PPI eased, driven by the rebound in oil processing prices and price increases for certain industrial sectors such as nonferrous metal smelting, chemical raw materials and chemical products, according to the NBS.
Liu Ligang, chief economist in China with ANZ Bank, said the central bank may reduce its benchmark interest rates by another 25 basis points along with a further 100-basis-point cut in the reserve requirement ratio, to curb industrial deflation.
The People's Bank of China has lowered interest rates three times and cut the RRR twice since November 2014.
Lian Ping, chief economist at Bank of Communications Co Ltd, said inflation has remained at below 2 percent for eight consecutive months, indicating the economy is yet to rebound after a series of supportive policies.
Lian predicted that CPI will increase slightly in the third quarter as pork prices continue to rise and global commodity prices rebound.
"But whole-year CPI is likely to be lower than 2 percent," said Lian.
JPMorgan's Zhu also expected inflation to pick up from the third quarter, as growth dynamics stabilize in the second quarter and are set to further improve after July.
"This will limit the need for further rate cuts," he said.
"This round of rate cuts is coming to an end. We do not expect further cuts in our baseline scenario, but admittedly this is a close call and the possibility of another rate cut will hinge on the tone of the May economic activity data to be released on Thursday."