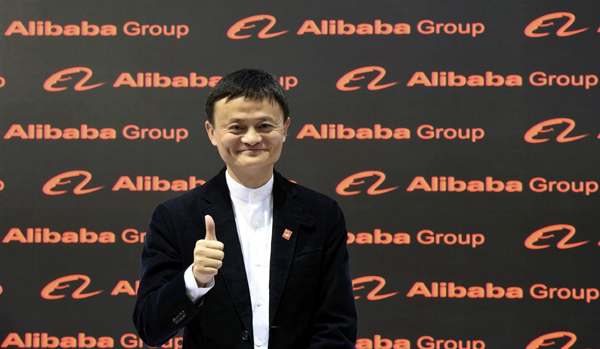 Alibaba founder and chairman Jack Ma poses for the media while touring the CeBIT trade fair in Hanover March 16, 2015. [Photo/Agencies]
Jack Ma, executive chairman of Alibaba Group Holding Ltd, began a three-day visit to the United States on Monday with the goal of attracting more US-based businesses to the company's e-commerce ecosystem.
"Our US strategy is quite simple and clear: We want to help US entrepreneurs, small business owners, and brands and companies of all sizes sell their goods to the growing Chinese consumer class," Ma said in an article in The Wall Street Journal ahead of his trip to New York.
Seeing China's growing number of online shoppers as an opportunity for US companies, Ma said China's middle class, which is equal in size to the entire US population, has a growing appetite for American products.
They are not only interested in luxury apparel and accessories but also love fresh food, baby products and cosmetics, Ma said.
According to Internet research firm eMarketer Inc, cross-border e-commerce purchases by China's online buyers grew from less than $2 billion in 2010 to more than $20 billion last year.
To connect US entrepreneurs with the largest, fastest-growing market in the world, Ma had a dinner with leaders of select global brands on Monday and was scheduled to have a lunch with members of the Economic Club of New York on Tuesday
On Wednesday, the billionaire entrepreneur will head for Chicago to meet 300 business owners and American Express Chief Executive Officer Ken Chenault.
Siva Yam, president of the Chicago-based US-China Chamber of Commerce, said that Ma's trip to Chicago makes sense given that the city has been actively courting Chinese companies to do business in the city.
"Chicago is still not the No 1 destination for investment," he said. "But Chicago has been really aggressive in trying to attract Chinese investment, particularly in the manufacturing sector."
The trip is part of Alibaba's broad effort to demonstrate that the e-commerce giant is the perfect conduit for US companies to crack the Chinese market, where millions of consumers regularly buy almost every imaginable product or service online.
As a platform that rivals Amazon Inc in terms of size and scope, Alibaba has already succeeded in attracting a wealth of US brands to its business-to-consumer Tmall platform, such as Costco Wholesale Corp and Macy's Inc.
Some small US businesses are also benefiting from Alibaba's platforms. It has helped them sell cherries and apples from Washington state and seafood from Alaska.
Alibaba's intensified efforts to expand its presence in cross-border e-commerce come amid rising domestic competition. Its biggest rival, JD.com Inc, which is backed by Tencent Holdings Ltd, launched a cross-border e-commerce platform in April in a partnership with eBay Inc.
As of June, JD had launched South Korea, Japan and France pavilions on its website to give Chinese consumers easy access to genuine products from these three countries.
Pavel Naiya, an e-commerce analyst at Counterpoint Technology Market Research, said that with about 350 million active monthly users, Alibaba is an ideal platform for US companies to reach Chinese consumers. But unauthorized products and counterfeit items will deter some American brands from cooperating with Alibaba.
Jane Zhang, an analyst at advisory company Gartner Inc, said another barrier for Alibaba in attracting US companies is that Alipay, a popular third-party payment service operated by Alibaba, is not well-recognized in the US.
"Unlike China, where Alipay is the most popular mobile payment platform, US companies mostly rely on Visa and MasterCard to process their online transactions. Their unfamiliarity and doubt with Alipay, which processes most of Alibaba's businesses, will keep some US companies away," Zhang said.
Ma Si in Beijing and Amy He in New York contributed to this story.