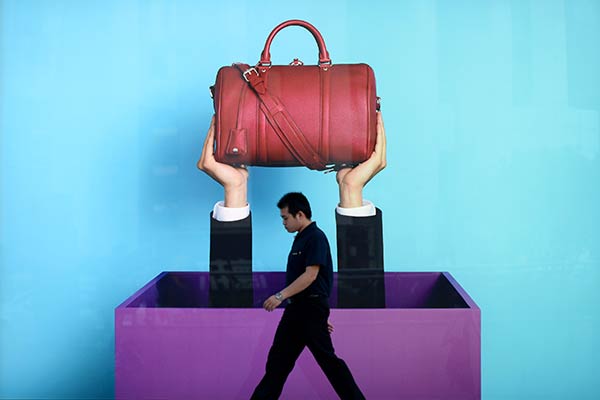 A man passes Louis Vuitton's advertisement in Wuhan, Hubei province. [Photo / China Daily]
China's ongoing crackdown on corruption has limited macroeconomic effects, said Moody's regional research head on Wednesday.
Even a relatively large contraction in the luxury goods sector, which accounted for only less than 0.5 percent of total retail sales in 2014, would have little impact on overall consumption, said Michael Taylor, head of Asia Pacific credit policy.
"We expect only a mild negative effect on consumption," said the managing director of the global rating agency, who spoke at its China Credit Risk Conference in Beijing.
The country reported a decline in car imports for the first time in 10 years of 19.9 percent from January to April year-on-year, according to the latest statistics released by China Automobile Dealers Association.
Hu Siyu, researcher at the association, attributed the drop in luxury import cars, about 50 percent for some models, to the anti-corruption drive.
"The effects of a contraction in luxury goods sales are more likely to be felt by non-Chinese companies," said Taylor.
Despite the risk that growth-enhancing public sector investment projects may be delayed, or even cancelled, such impact is "modest compared with the broader goals of reform and rebalancing," he added.
The nation has intensified its fight against corruption in the past years with an avalanche of high-profile crackdown among government officials and corporate executives.
Corruption is to be blamed for capital misallocation and overcapacity, said Taylor.
Du Xiaoying contributed to this story.