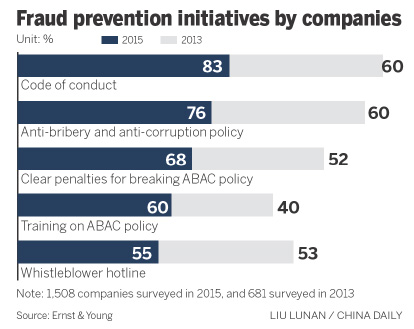 Though Chinese companies have strengthened their anti-fraud and anti-corruption policies after the nationwide anti-graft campaign started in 2013, they still need to do a lot more to regain their employees' trust, a new report said on Wednesday.
The study, conducted by global consultancy firm Ernst & Young, highlighted the need for companies to plug the loopholes in policy enactment and enforcement. EY said its findings are based on responses from 1,508 companies across Asia, including 250 from the Chinese mainland.
It found that companies now have a much higher perception about compliance than before, with the need for stricter rules to curb unethical behavior like fraud and corruption. In China, about 66 percent of respondents said their companies had been influenced by the ongoing anti-graft campaign.
The anti-graft actions have prompted enterprises, be they multinationals, public companies or private sector ones, to rethink their anti-bribery and anti-corruption strategies, including extending training and using more proactive tools to prevent unethical behavior, said Emmanuel Vignal, leader of China operations with fraud investigation & dispute services at EY.
Fraud and corruption prevention is no longer just a legal and compliance issue, but something that affects recruitment, talent retention and business continuity, said Vignal.
Employees have attached more importance to their employers' righteousness, as more than two-thirds of the respondents from the Chinese mainland said their willingness to work may be reduced if the employers are involved in bribery and corruption.
Sisley Wong, a 36-year-old marketing officer with a food company in Shanghai, said: "It is clear that the anti-graft campaign will be a long one, and the checks, both internal and external, may expand to every sector. We have seen cases in which employees were sacked after businesses saw their performance and reputation nosediving due to corruption. So working for a company that is not clean enough is actually quite risky."
Enforcement of policies, however, needs to be much stronger as many respondents felt that due to the slow economic growth, decision-makers at some companies may resort to bribery and other unethical measures to boost business.
About 48 percent of respondents in the Chinese mainland said some of their colleagues who carried out unethical practices had been promoted, instead of being punished. Nearly half of the respondents said that their companies' existing anti-bribery and anti-corruption policies are not up to the mark.
Whistleblowers also had concerns over insufficient legal protection and lack of confidentiality when considering reporting unethical behavior to regulators, and some enterprises even do not have an internal whistleblower hotline to handle the issues.
EY's research found that the number of respondents who were prepared to use such a hotline had decreased significantly from 81 percent in 2013 to 52 percent in 2015.