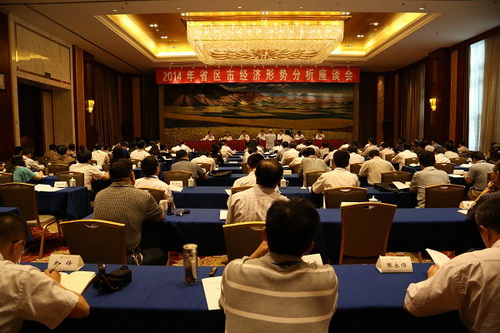 The 2014 Symposium on Province and City Economic Situation is held in Lanzhou, capital of Northwest China's Gansu province, on June 26.
The 2014 Symposium on Province and City Economic Situation was held in Lanzhou, capital of Northwest China's Gansu province, on June 26 to study and judge the national economic situation in the first half-year, China Economic Times reported.
The annual mid-year macroeconomic event, sponsored by the Development Research Center of the State Council (DRC), also analyzed the direction of economic development in the second half of 2014 and made proposals, with heads from 31 provincial and municipal government development research centers and researchers of the DRC attending.
Liu Weiping, governor of Gansu province, introduced Gansu's economic and social development and added that think tanks are playing an increasingly important role in decision-making. Even local governments need the help of think tanks, a fact proven by the DRC's contribution to the planning of the construction of Gansu in the Silk Road Economic Belt.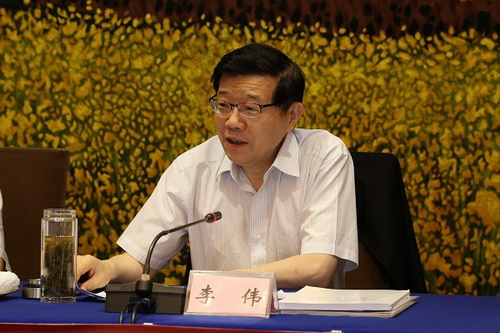 DRC Minister Li Wei is present at the 2014 Symposium on Province and City Economic Situation and delivers a speech.
DRC Minister Li Wei was present. He said this year saw a steady start to economic development with the economy growing at a reasonable rate. Economic downturn pressure, however, is still big, and the overall situation is more complex than previous years. To study the situation in a comprehensive way, DRC heads conducted surveys and held seminars in Tianjin, Hebei province, Guangdong province, Heilongjiang province, Jiangsu province, the Guangxi Zhuang autonomous region, Yunnan province and Fujian province in preparation for the symposium.
Though economic growth slowed down at the beginning of the year, the development rate, quality and efficiency were reasonable, said Li. There was also a strong demand for labor that reduced the pressure on employment, and the Consumer Price Index (CPI) was under control. All this shows that the foundation for medium and long-term economic growth remains unchanged. It is not suitable to give a negative projection of the economic outlook simply because of the short-term drop in the growth rate. Li noted that as the real estate market faces adjustment and so does the excessive capacity, pressure on the real economy will be felt in the financial system and risks may occur. Economic growth for the whole year is expected to reach the target if investment in the country maintained stable along with restructuring and system transformation.
Li also stressed the transformation of development pattern and new economic growth power are the key points for economic operations, with economy's scale, quality, growth rate and efficiency in a balance relationship.
China's economic restructuring has made progress this year. The service industry has become the most dynamic part of the economy and a new driver for growth. Consumption growth is flat compared to the same period last year even though export and investment growth has dropped sharply. In addition, employment adapted to slower economic growth, manufacturing transformation and upgrades made achievements, urban and rural residents' income increased, and the income gap narrowed.
As for how to promote economic growth, Li said deepening reform is of crucial importance. Special attention should be paid to dealing with the relationship of risk control, restructuring, demand management, and the promotion of reform. China is now at a transition period from a high-growth rate to a medium-high rate, and the unstable economic operation is likely to cause risks.
As potential growth drops significantly, the country has to expand its credit to maintain strong economic growth, which will increase local government debt and create an asset bubble and financial risks. Slower economic growth, however, especially a fast drop in a short period of time, may worsen excessive overcapacity and lead to tight employment, increase of non-performance loans in banks, and even systematic risks.
Li Wei went on to say that to address short-term economic fluctuation, sharp ones in particular, it is necessary to adopt measures and policies to promote demand. Such measures should be used together with restructuring and system transformation. The key of reform is to deal with the relationship between the market, which should play a decisive role in allocating resources, and the government. Measures used in reform may take long or short time to have effect, and may be targeted at supply or demand. Those that may have effect quickly and are used to boost demand should be used first to realize the expansion of demand and stabilization of growth. They may work with policies to promote demand to cultivate medium and long-term growth.
In the short term, the country should continue to focus on adjusting the investment structure, stabilizing the investment growth rate, solving financial risks and pushing forward reforms. The country should regulate local financial platforms and help local government's finance sectors comply with laws and regulations. It should also give support to the construction of housing and infrastructure with the help of policy-based financial institutions, speed up asset securitization, vitalize stock, reduce overcapacity, and promote industrial restructuring.
In the long term, priority should be given to reforms that will benefit economic growth, restructuring and transformation. This includes industrial reform to get rid of administrative monopolies and promote fair competition, and reforms in increasing efficiency of non-trade departments, cutting enterprise cost, and reforms in land, finance, and intellectual property rights protection. The reforms will increase enterprise profitability, expand the opening of the service industry, break down invisible barriers, enhance social public service infrastructure, and alleviate debt pressure for local governments and enterprises.
Li also explained issues of concern, including the trend of foreign import and export, the real estate market, the drop in the investment growth rate, and the financial and real economy's development.
Participants took part in discussions in three groups and expressed opinions based on local economic development. DRC Minister Li Wei, vice-ministers Liu Shijin and Zhang Junkuo, and Director-General of the DRC's General Office Long Guoqiang attended discussion.
DRC's Vice-Minister Liu Shijin concluded the event on June 27. Zhao Jinping, director-general of the Research Department of Foreign Economic Relations; Yu Bin, director-general of the Department of Macroeconomic Research; Ren Xingzhou, director-general of the Institute of Market Economy; and Zhang Chenghui, director-general of the Research Institute of Finance of the DRC, gave special reports on foreign trade, the macroeconomic situation, the real estate market and monetary policy, respectively.
Zhang Junli, deputy secretary-general and research office director of the Gansu provincial government, made a speech about the issues that Gansu needs to focus on regarding the construction of the Silk Road Economic Belt.