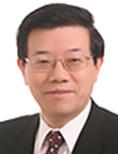 Li Wei
Li Wei,President (Minister), member of the Leading Party Members' Group and research fellow of DRC , was born in Feng county, Jiangsu province in August 1953. He joined the PLA in December 1970 and began working as Deputy Chief of the Organization Section and member of the Party Committee of Shanghai Chemical Import and Export Corp in April 1976.
He studied Chinese Language and Literature at Shanghai TV University from September 1982 to October 1985, and then became the Liaison Officer of the Organization Department of Shanghai Municipal Party Committee.
From March 1988, he worked as Shanghai Municipal Government Secretary and member of the Shanghai Municipal Party Committee; he became Secretary of the General Office of the State Council in April 1991. He was appointed Head of the Premier's office in March 1998 and became Deputy Director of the Research Office of the State Council.
He was appointed Deputy Party Secretary of the Central Financial Work Committee in January 2003, and Vice-Chairman of China Banking Regulatory Commission in March 2003. He became Vice Chairman of the State-owned Assets Supervision and Administration Commission of the State Council in October 2005 and Deputy Secretary of the Party Committee. He was appointed as Secretary of the Leading Party Members' Group and Vice President of DRC in July 2010 and President and Deputy Secretary of the Leading Party Members' Group of DRC in April 2011. He is a member of the 18th CPC Central Committee.
He has long been engaged in policy research of macro economy, State-owned enterprise reform, management of State-owned enterprise property rights, State-owned enterprise policy-mandated bankruptcy, investment management of financial derivatives in SOEs, and informationization of enterprises. He was involved in the rural credit cooperative reform from 2003-2005. He has published more than 70 papers and articles in the major newspapers and co-authored Financial Instruments and Insurance Accounting. He has participated in the drafting and formulation of policy-related documents of CPC Central Committee and State Council. Of late, he has made research on the performance of macro-economy, financial policies, real estate market, urbanization, social management innovations and enterprise reform.