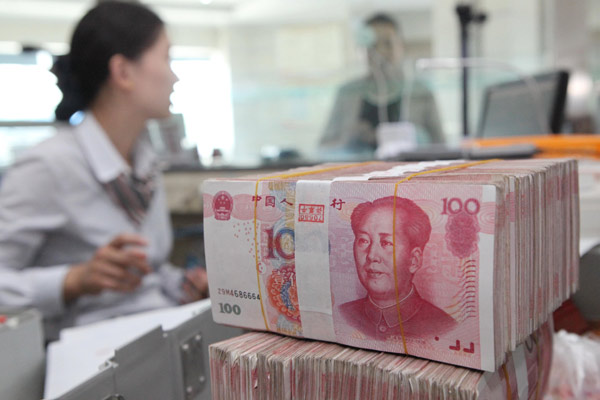 An employee counts renminbi (yuan) banknotes at a bank in Lianyungang city, East China's Jiangsu province, June 4, 2014. [Photo provided to China Daily]
BEIJING - There has been speculation over whether China is implementing quantitative easing (QE) by buying local government debt, but experts believe some people may have misused the term QE regarding China's current monetary policies.
There is no need for the central bank to buy new government debts directly, a QE measure to pump liquidity, and the central bank is forbidden by law to provide funds to governments directly, said Ma Jun, chief economist with the research bureau of the People's Bank of China (PBOC) on Tuesday.
This year China will maintain stable monetary policies, Ma said.
China has a series of tools to adjust liquidity, including directional refinancing, interest rates and reserve requirement ratio (RRR), and they are effective, Ma said.
Besides these monetary policies, China has been introducing policy tools like fiscal and structural reforms to cope with economic downward pressure, he said.
The market is over-reacting to the "Chinese QE" story and misusing the term QE with regard to China's current monetary policies, said Zhao Yang, an economist of Nomura, Japan's leading financial institution, on Wednesday.
It is widely accepted that the PBOC will inject more liquidity into the interbank market. In actuality, it has been injecting liquidity more aggressively since last year, an effort widely believed to maintain normal growth of the monetary base rather than to provide extra liquidity to the system.
But such liquidity injection is not equivalent to a Chinese version of QE, Zhao said.
QE, in essence, is a monetary policy regime change with an accelerated expansion of a central bank's balance sheet while policy rates are close to zero. Given China's monetary background, QE would mean a "more aggressive" expansion of the PBOC's balance sheet, but this is not what is happening, he said.
The recent liquidity injections have mainly been to offset shrinking foreign exchange purchases in the maintenance of the normal expansion of the central bank's balance sheet. The bottom line is that there is no extra liquidity growth in terms of the monetary base or broad money (M2) from the PBOC's liquidity injections, Zhao said.
Meanwhile, the PBOC is "unlikely, and not in any QE way" to buy local government bonds, according to Zhao.