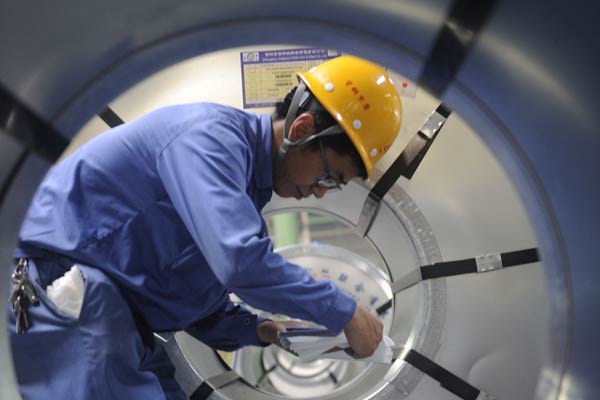 A worker is pictured in Shougang Jingtang United Iron & Steel Co on Aug 28, 2014. [Photo/Xinhua]
Economies of one-third provinces and municipalities in China grew slower than the national level of 7 percent in the first quarter, reported people.com.cn on Wednesday.
Heilongjiang, Jilin and Liaoning provinces in Northeast China are among the regions below the national level, with the latter's economy growing at the slowest pace of 1.9 percent, according to the website.
Chongqing ranked the first, with a GDP growth rate of 10.7 percent, followed by Guizhou province and Tibet autonomous region.
Eighteen provinces and municipalities grew faster than 7 percent in the first quarter, according to the people.com.cn, while three grew in line with the national level.
China's economic growth fell to a six-year low in the first quarter, buffeted by sharp declines in industrial production and real estate construction. The government lowered this year's growth target to around 7 percent from 7.5 percent.