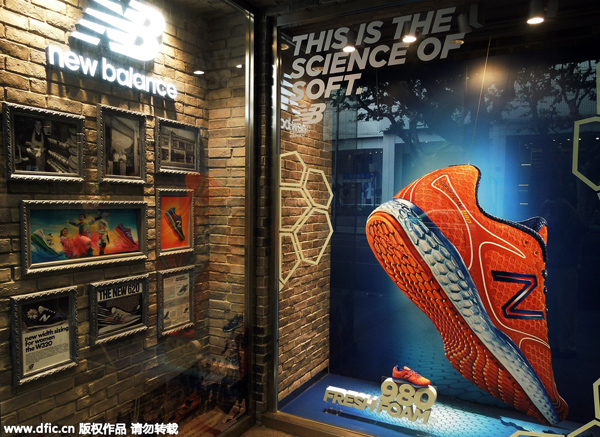 A New Banlance's store in Shanghai, Aug 18. 2014. [Photo/IC]
US-based sports shoe maker New Balance Shoes & Apparel's sales agent in Chinese mainland has been fined 98 million yuan ($15.8 million) for trademark infringement, Guangzhou Daily reported on Wednesday.
When selling New Balance footwear, the agent used the brand's Chinese translation "Xin Bai Lun", a trademark registered in 1996 and transferred to Zhou Moulun, the complainant, in 2004.
Zhou claimed that the company used "Xin Bai Lun" as its own in China, and misled customers into making them believe the trademark was the Chinese name of New Balance, the newspaper said.
Zhou said such behavior reduced development potential for him to build and develop his own brands "Bai Lun" and "Xin Bai Lun".
The US shoemaker's sales agent argued that it had not infringed the trademark, as it had used it before Zhou, according to the newspaper.
The decision by Guangzhou Intermediate People's Court was made last week. It was the biggest fine imposed in intellectual property disputes.
Besides paying compensation to Zhou, the company must also post a clarification on the homepages of its official website and the online flagships.
New Balance reserves the right to appeal.