"A robot society will be established in the very near future," said Hiroshi Ishiguro, an international researcher on robotics and director of the Hiroshi Ishiguro Laboratories (HIL) at Japanese Osaka University on Tuesday during the ongoing 2015 Global Mobile Internet Conference (GMIC) in Beijing.
An android named Yang Yang, one of the second generation companion robots created by Professor Ishiguro, was introduced by him at the conference.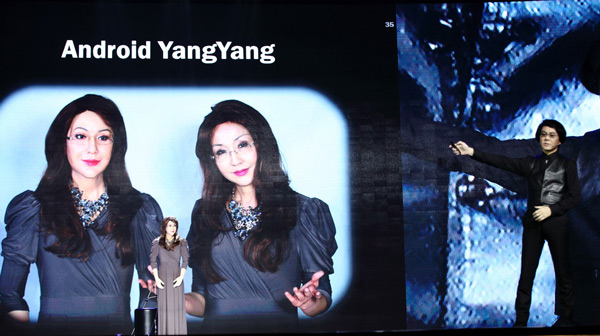 Hiroshi Ishiguro, right, director of the Intelligent Robotics Laboratory at Osaka University, remote-controls the humanoid robot Android Yang Yang at its world premiere during the 2015 Global Mobile Internet Conference (GMIC 2015) in Beijing, China, 28 April 2015. [Photo/IC]
During Ishiguro's speech, his android demonstrated human facial movements, communicated and even sang.
He said that a society that contains a variety of robots, such as industrial robots and androids, will be built in the near future.
He also acknowledged that neuroscientists and cognitive scientists need to cooperate to improve his androids.
"The imitation of celebrities by androids, the unceasing work done by them, and their immortality have caused people to ask philosophical questions such as what is a human being, and what is the meaning of life," said Ishiguro.
According to the official website of HIL, the labs were founded to encourage and promote studies based on original and unique ideas from Hiroshi Ishiguro, Advanced Telecommunications Research Institute International Fellow, who has achieved remarkable feats in robotics.
They have explored new information media based on humanlike robots that harmonize humans with an information-rich environment beyond mere personal computers, while inquiring, "What is the essence of human beings?"
However, "when will robots takeover of human society?" is not a new topic for the industry.
An essay written by Rhett Allain, associate professor of physics at Southeastern Louisiana University, on WIRED magazine in January pointed out that "robotification", the process by which tasks normally performed by humans are replaced with machines of some kind, has already started as human beings have been surrounded by robots such as Automated Teller Machines, robot arms in car factories, self-checkout at grocery stores and self-driving cars.
Other robot manufacturers such as Taiwan based education robot maker GeStream Technology Inc, Beijing based companion robot maker Ainemo Inc and Shenzhen based industry robot maker UBTECH have also joined the conference named "mobile everything" to showcase their newly launched products.
Since 2009, the GMIC hosts mobile executives, entrepreneurs, developers, and investors from around the world and across platforms to build partnerships, learn from industry thought leaders, better understand mobile technology trends, and to shed light on how mobile is positively changing the world. The event is organized by the Great Wall Club.
More than 100 speakers and over 20,000 mobile industry executives, entrepreneurs, developers and investors from more than 60 countries around the globe will join the conference; it will cover topics such as robotics, mobile marketing, transforming mobile to an important tool in the medical sector, smart home appliances and the mobile gaming sector.
After the first conference hosted from 28 to 30 April in Beijing, this year's GMIC will be consecutively held in New York, Tokyo, Jakarta, Bangalore, San Francisco, Sao Paulo and Taiwan.