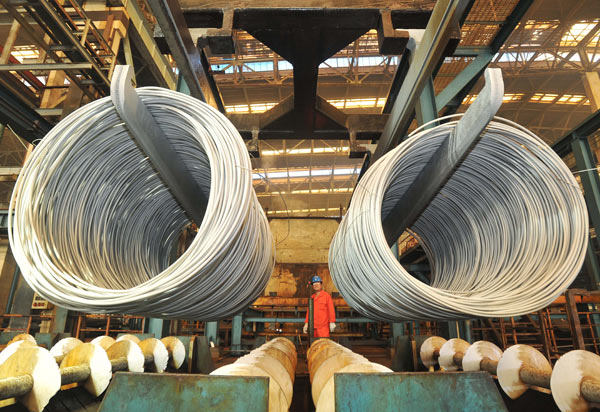 China produced less steel in the first quarter of the year due to shrinking demand amid slowing economy and government's effort to overhaul the saturated sector. [Photo provided to China Daily]
BEIJING - China produced less steel in the first quarter of 2015 as demand shrank amid a slowing economy and government moves to overhaul the saturated sector, new data showed on Wednesday.
Output of crude steel slipped 1.7 percent from a year ago to 200.1 million tons in the January-March period, accounting for slightly more than half of the world's total, according to the data from the China Iron and Steel Association (CISA).
Meanwhile, steel prices continued to drop and steel mills' inventories kept piling, but exports of steel products surged over 40 percent to 25.78 million tons, the figures showed.
The CISA said many plants still struggled to keep afloat. The combined Q1 losses of large and medium-sized companies grew to over 11 billion yuan ($1.8 billion), up over 3 billion yuan from a year ago.
Despite the lackluster performance, the heavily-polluting sector is becoming cleaner as energy consumption and pollution from steel producers dropped, the CISA said.
China's iron and steel sector has been plagued by overcapacity since the financial crisis due to over a decade of blind expansion. Many companies filed bankruptcy and those that survived have suffered.
The Ministry of Industry and Information Technology announced in March that the government will accelerate the overhaul of the overly-invested sector by speeding up mergers and acquisitions and improving technology. It said it hopes to bring it back to a "basically balanced level" by 2017.
The CISA predicted that the steel demand of downstream industries will probably drop in the next three months or the second half of the year as slowing economic activity means less demand from big consumers including construction and machinery.
The Chinese economy expanded at 7 percent year on year in the first quarter of 2015, with the growth of other major indicators including industrial output and fixed asset investment dropping markedly.
In addition, the association cautioned that Chinese steel mills were too reliant on material imports as 80 percent of iron ore came from abroad.