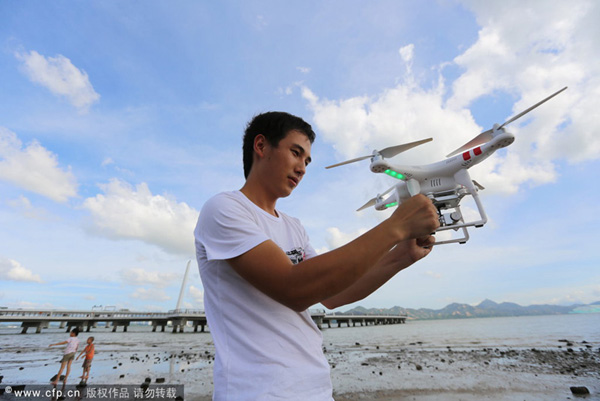 Boy adjusts his toy aircraft in Shenzhen, South China's Guangdong province, Aug 28, 2014. [Photo/CFP]
BEIJING - China introduced new measures on Tuesday to accelerate the quality upgrading of refined gasoline.
Quality upgrading is key to preventing and controlling air pollution and will help improve the environment and living standards, said a statement released after a State Council executive meeting presided over by Premier Li Keqiang.
The measures will also boost investment and promote the technological transformation of domestic enterprises, as well as increase consumption demand.
Starting from next year, all vehicles in the 11 provinces and municipalities of eastern China should use fuels, including gasoline and diesel, that adhere to China's leading '5th-phase' standards, with sulphur content within 10 ppm (parts per million), starting from next year.
Previously the regions only included Beijing, Tianjin and Hebei, and major cities in the Yangtze River Delta and Pearl River Delta.
Fuels in line with the standard should be supplied nationwide as early as January 2017.
From July 2017, provisions of 4th-phase automobile standard diesel, with no more than 50 ppm of sulphur content, will be available all over the country. Nationwide provisions with sulphur content within 10 ppm, will start from January of 2018.
To fulfil these tasks, oil refineries will have to increase their investment in technological upgrading by about 68 billion yuan ($11.11 billion), which will further mobilize investment and production of related industries such as refining equipment.
The State Council also vowed to enforce standards and strengthen supervision to support the acceleration of quality upgrading of oil products.