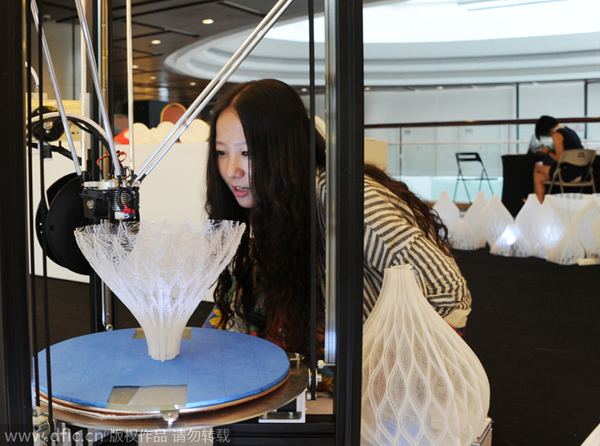 Items are manufactured using 3D printer at an expo in Shanghai, Sept 29, 2014. [Photo/IC]
BEIJING  - A roadmap for the future of manufacturing, the "Made in China 2025" plan,  will be unveiled in the near future, an insider told Xinhua on Monday.
The four-ministry drafted plan has been submitted to the State Council, according to the insider who requested anonymity.
Ten sectors have been identified as priorities. They are new information technology; high-end numerically-controlled machine tools and robotics; aerospace equipment; ocean engineering equipment and ships with high technology; advanced railway traffic equipment; energy saving and new energy vehicles; power equipment; new materials; biological medicine and high-performance medical devices; and agricultural production machinery.
"Made in China 2025" will focus on the upgrading of the manufacturing sector to improve innovation ability, integrate informatization and industrialization, through green manufacturing and manufacturing internationalization, according to Industry and Information Technology (MIIT) Vice-Minister Su Bo.
The plan follows an indepth study by the Chinese Academy of Engineering, according to MIIT Vice-Minister Mao Weiming.
Although comparisons have been made between the roadmap and Germany's Industrie 4.0, Liu Baicheng, from the Chinese Academy of Engineering, clearly stated that "Made in China 2025" was different.
Industrie 4.0 - the result of collaboration between the German government, research institutions and businesses - focuses on the development of fully-automated "smart" factories. These factories would make products on the shopfloor fully customizable, according to media reports.
"Made in China 2025", on the other hand, will span the whole manufacturing industry, applying advanced ideas not only from Germany, but also from the US and Britain, among others.
The initiative will not only push forward the transformation and upgrading of the manufacturing industry, but also push development, said Su.
Amid China's "new normal" of economic development, featuring slower but higher quality growth, the government is attempting to steer the economy toward a more sustainable growth mode driven by domestic consumption, the service sector and, most importantly, innovation.