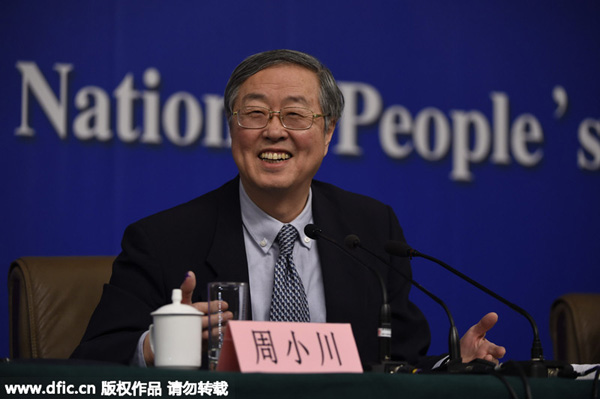 Zhou Xiaochuan, governor of People's Bank of China, takes questions from journalists at home and abroad during an ongoing press conference on March 12, 2015. [Photo/IC]
BEIJING - China will accelerate reform and opening up of its capital market in 2015, aiming to make the Chinese yuan convertible on the capital account, central bank governor Zhou Xiaochuan said Sunday.
Despite the People's Bank of China's (PBOC) prudent monetary policy, reform and opening up in the capital market will be accelerated, said Zhou at the ongoing China Development Forum.
In the final year of the 12th Five-Year Plan, the central bank will try to realize the yuan's capital account convertibility, a goal raised four years ago, he said.
The central bank will first work to make it easier for Chinese investors to invest overseas and foreign residents to invest in China.
China is prepared to reform the prior approval system governing Chinese residents investing in securities or other financial products overseas, and it will also unveil a series of policies and pilot moves to make it easier for foreigners to invest in China's financial products, he said.
The capital market for the world's second largest economy is also poised to be more open, not only allowing China and other countries to invest in each other's stocks and bonds, but also providing better protection for the rights and interests of these investors, he said.
China will further review its foreign exchange regulations and push forward the next round of revision while considering the requirement for realizing yuan's capital account convertibility, Zhou said.
He also clarified the country's current monetary policy.
The wave of RRR and rate cuts beginning in November last year have prompted speculation that China's monetary policy has turned from "prudent" to "loose" as downward pressure on growth continues.
"In general, the speed of credit expansion and aggregate credit supply expansion is still quite prudent and much lower than the period of global financial crisis when there was an economic stimulus package," Zhou said.
A prudent monetary policy in the context of a "new normal" economy should be both supportive of economic growth and promoting structural reforms, the governor said.
Under the "new normal," China will take into account both developing the capital market and maintaining a prudent monetary policy so as to help lower the leverage rates which have been rising, Zhou added.