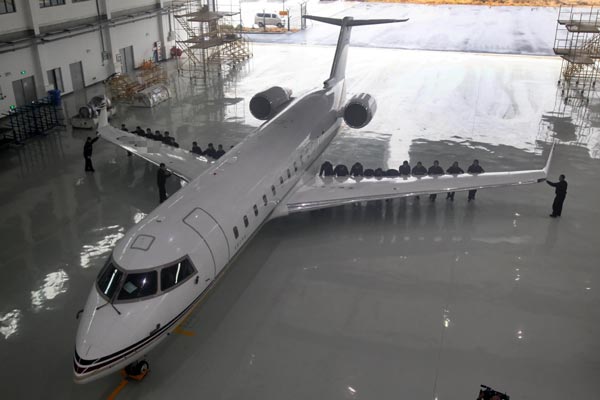 Preparations underway in Nantong, Jiangsu province, for upgrading the electronics system of a Bombardier business aircraft. Construction started on Thursday in Tianjin for a maintenance facility to be used by Bombardier Business Aircraft. [Photo/China Daily]
Construction started on Thursday in Tianjin for a maintenance facility to be used by Bombardier Business Aircraft, which will be the first facility for the company's business jets on the Chinese mainland.
The facility is part of a joint venture between Bombardier Inc and the Tianjin Airport Economic Area.
Construction got underway just after the central government officially added Tianjin to the list of places with pilot free trade zones on Tuesday.
In FTZs, goods can be imported, processed and re-exported without going through customs authorities. Foreign investment is also permitted in some fields that are restricted outside the zones.
"We chose Tianjin because of its impressive infrastructure, aerospace cluster, strong government support and proximity to Beijing, the busiest business aviation hub in the mainland," said Michel Ouellette, aircraft programs and customer services vice-president of BBA.
The facility, which is scheduled to open in 2017, will cover almost 8,900 square meters including hangars, offices and back shop areas, which will allow Bombardier to provide maintenance, repair, overhaul and associated activities as well as services to its business aircraft customers, the world's third-largest civil aircraft builder said.
Bombardier did not release full details of the joint venture, but it said that the facility will be operated using similar processes and procedures governing Bombardier's wholly owned global service center network.
More than 120 business aircraft made by Bombardier are operating in China, accounting for about one-third of the nation's business aircraft fleet. The business aircraft fleet expanded at a 33 percent compound annual growth rate during the past five years, said Ouellette.
The joint venture will provide customers with access to a full range of original equipment manufacturer maintenance service from light to heavy maintenance across Bombardier's entire business aircraft portfolio, he said.
"We are confident that this collaboration will benefit Bombardier business aircraft customers in China, while growing the large aerospace hub in Tianjin," said Tianjin Mayor Huang Xingguo.
An entire civil aviation industry chain has already formed in Tianjin, including final assembly, parts production and services.
The industry's output exceeded 50 billion yuan ($8.06 billion) last year, according to the local government. It expects that figure to rise to 120 billion yuan by 2020.
"As an important aviation industry base in China, Tianjin will provide a favorable industry environment for Bombardier's project and promote the manufacturer's development in China and the Asia region," said Lyu Yingbo, deputy director of the Tianjin Airport Economic Area.