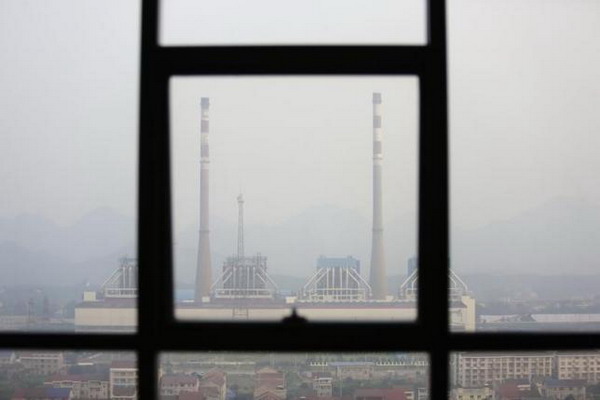 Chimneys are seen through a window at a coal-fired power plant on a hazy day in Shimen county, central China's Hunan Province, June 2, 2014. [Photo / Agencies]
China needs to cut lending to coal-related industries and shift more financing to cleaner businesses in order to address a huge funding gap that is hindering the country's war on pollution, a study drawn up in part by central bank researchers said.
Some 2.9 trillion yuan ($468 billion) a year was required over the next five years to boost clean energy and tackle pollution, said the study published on Thursday by the Financial Research Institute of the People's Bank of China and Greenovation Hub, a non-governmental organization.
The researchers found that bank loans to the coal sector rose sharply from 2012 and more than doubled in 2013, a period when growth in Chinese energy demand remained high and coal firms were rapidly expanding.
After reviewing loans made to 168 Shanghai-listed companies, the report found that 5.5 trillion yuan went to borrowers specializing in coal mining, coal-fired power generation, coal chemicals and building materials from 2008 to March 2014.
However, the cheap loans have saddled the sector with a massive capacity glut that has brought down prices, especially with coal consumption falling for the first time in more than a decade last year.
Banks are already under pressure to cut lending to oversupplied industrial sectors and many loan applications from small and highly energy-intensive coal firms have been rejected.
But the report said regulators should crack down harder on financial institutions that continue to lend money to polluters, adding that cutting coal-related lending to 40 percent of the 2013 level would help bring coal consumption down to around 4 billion tons by 2020.
China aims to cap consumption at 4.2 billion tons by that year and reduce coal's share of the total energy mix to 62 percent from 65 percent.
The authorities have struggled to encourage banks to lend to cleaner businesses, which lack collateral.
"Most banks have no clue how to evaluate the cost of the environmental impact from projects," said Yuan Jia, a researcher with the institute.
Outstanding loans to energy conservation and environmental protection projects had reached 416.2 billion yuan by June 2014, just 6.43 percent of total bank lending from China's 21 major banks, according to the China Banking Regulatory Commission.
"(China) should offer easy access for (clean) energy companies to borrow money at a lower rate, build a green investment bank and issue green bonds to direct investment into green and clean businesses," the report said.