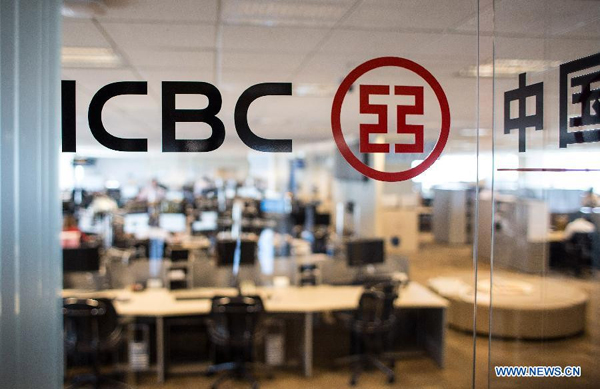 A branch of Industrial and Commercial Bank of China. [Photo/Xinhua]
Industrial & Commercial Bank of China Ltd (ICBC) is now the world's most valuable bank, winning its duel with Wells Fargo & Co, Bloomberg reported Thursday.
ICBC's market capitalization was $315 billion on Thursday, 11 percent more than Wells Fargo based in San Francisco.
According to analyst Steven Chan, of Maybank Kim Eng Securities Pte in Hong Kong, Chinese banks' gains may be supported by monetary easing lowering their funding costs and limiting bad loans, the report said.
China has cut interest rates and lenders' reserve requirements twice since November.
"The next round of the rally is likely to be related to some of the foreign institutional investors realizing that they've been too pessimistic about China's banks," Chan said.
ICBC reported a net profit rise of 5.1 percent year on year to 276.29 billion yuan ($45.29 billion) in 2014.
Business revenue gained 11.7 percent in 2014 from 2013 to 658.89 billion yuan. Among the total revenue, the net interest income gained 11.3 percent year on year to 493.52 billion yuan.
The bank's total assets hit 20.61 trillion yuan, up 8.9 percent year on year.