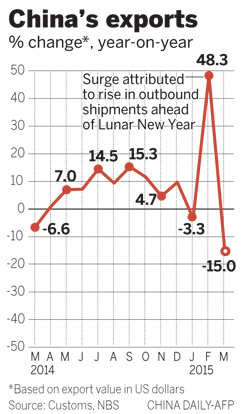 China's foreign trade volume contracted by 6.3 percent year-on-year in the first quarter to $904 billion, heightening concerns over the nation's economic growth.
Exports dropped by 15 percent last month from the same period a year earlier to $144.6 billion, while imports fell by 12.7 percent to $141.5 billion, according to the General Administration of Customs on Monday.
Huang Songping, spokesman for the administration, said the figures fell far short of the annual trade growth target of 6 percent this year.
"The global economic downturn, sluggish external demand, a weakened competitive edge for exports, and low commodity prices have imposed substantial constraints on China's earning ability," Huang said.
Traditional exporters in the Pearl River Delta, a major manufacturing and export base in southern China, are feeling the chill.
Chen Peiyue, deputy general manager of Yangjiang Xianfuren Industrial Co, said the company's production has been cut by about 20 percent because of falling overseas orders in the first quarter. Profits have dropped by more than 10 percent, she added. The company in Yangjiang, Guangdong province, produces and sells knives.
Chen attributed the exports decline to falling demand and weaker currencies in major markets such as Europe.
Predicting an uncertain outlook for exports in the near future, Chen said the company must concentrate more on domestic demand to ensure sustainable growth.
Jiangsu Xinshen Group Co, which manufactures linen in Jiangsu province, used to focus on foreign trade but is now concentrating more on the domestic market.
Li Jianfeng, the company's senior sales manager, said, "The proportion of domestic manufacturing has increased from 10 percent to 40 percent since 2008 due to the worsening overseas market."
To retain sales revenue growth of 10 percent, Xinshen switched to focusing on the design and technology of products to follow market trends.
Huang said the nation's key production sites have begun to expand into less-developed central and western regions from the developed eastern coast. In the first quarter, exports from central and western regions rose by 16.5 percent, much higher than the national average.
Huang said the exports structure has also been upgraded in view of the robust performances of high-end products, with the vehicle, smartphone and metal processing tool sectors all growing by more than 20 percent year-on-year in the first quarter.
He said China will continue to simplify trade procedures and benefit from development of the Shanghai Pilot Free Trade Zone.
The Silk Road Economic Belt and 21st Century Maritime Silk Road initiatives, proposed by President Xi Jinping, will also help to improve cooperation with countries in Asia, Europe and Africa, Huang added.
Zhou Shijian, standing councilor at the China Society for World Trade Organization Studies, said trading companies should take into account local market consumption ideas when doing business overseas.
Yu Ran in Shanghai contributed to this story.
Contact the writers through zhongnan@chinadaily.com.cn