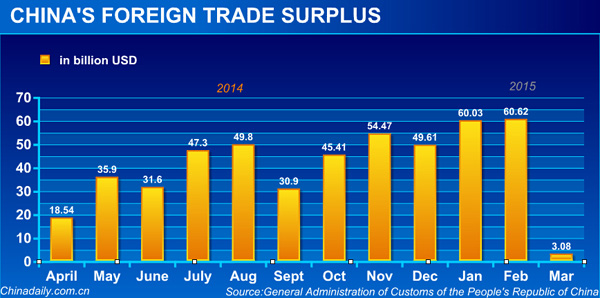 BEIJING - China's foreign trade structure has been optimized although growth remained anaemic in the first quarter of 2015, official data showed Monday.
Exports slumped in March despite previous signs of improvement, the General Administration of Customs (GAC) found.
Last month, foreign trade volume dropped by 13.5 percent to 1.76 trillion yuan ($286.6 billion) from a year earlier, following an 11.3 percent increase in February and a 10.8 percent decrease in January, according to GAC.
The lackluster performance was partly dragged down by a 14.6 percent export slump in March, following a 48.9 percent surge in February, indicating a grim external environment.
Total foreign trade posted a 6 percent decrease in the first three months, falling to 5.54 trillion yuan, with exports rising 4.9 percent and imports dropping 17.3 percent.
The figures come after the annual target for foreign trade growth was lowered to around 6 percent for 2015, from 7.5 percent in 2014, when a mere 2.3 percent increase was delivered, falling short of the target for the third consecutive year.
Trade with the European Union, its biggest trade partner, waned by 2.1 percent in the first quarter, while with the United States, the second largest, rose 3.2 percent. Trade with Japan plummeted by 11 percent during this period.
"Generally speaking, foreign trade is on the decline as the global recovery is sluggish, and domestic downward pressure is mounting," said GAC spokesman Huang Songping.
Huang attributed the decline to disruptions caused by the Spring Festival holiday and high comparative base in March last year.
It is common for the economy to start the year sluggishly due to the Lunar New Year holiday, when many businesses and factories shut for a week, which this year fell in February compared to January the previous year.
However, foreign trade was streamlined in layout and structure despite the decline, according to Huang.
In the first quarter, the combined volume of exports and imports in the central and western regions advanced 1.9 percent year on year to 1.93 trillion yuan, accounting for 34.9 percent of the nation's total, up 2.7 percentage points from the same period last year.