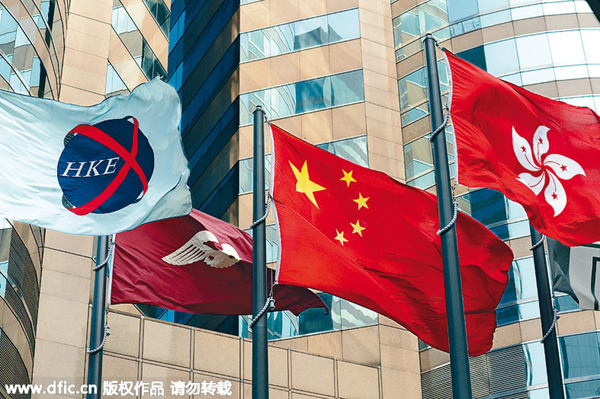 Flags flutter at the Hong Kong Exchanges & Clearing Ltd in Hong Kong, China, April 10, 2014. [Photo/IC]
Hong Kong Exchanges & Clearing Ltd, the world's biggest bourse operator by market value, expects the trading limits for the equity link with the Chinese mainland will be increased.
The exchange had record trading turnover for two days this week as mainland investors used up their daily quota for buying Hong Kong stocks through the Shanghai-Hong Kong Stock Connect program. They bought 10.5 billion yuan ($1.7 billion) of shares on Wednesday and Thursday.
"There will definitely be an expansion," HKEx's Chief Executive Officer Charles Li said on Friday in Hong Kong. "The expansion won't simply be 20 percent to 30 percent. If there is an expansion, it must be of a certain magnitude of the quota," he said.
Regulators in Hong Kong and the Chinese mainland would need to agree on increasing the quota, and the authorities are also developing plans for one more trading connection with the Shenzhen exchange, said Romnesh Lamba, HKEx's co-head of global markets. The equity link with the Shanghai bourse started in November with an overall limit of 550 billion yuan on the value of equities investors can hold, and also has daily caps.
"Regulatory authorities have been discussing quota expansion for a while," said Li. "The quota will not be adjusted instantly following an abrupt market move. It will be an orderly adjustment and the market should wait patiently."
Hong Kong stocks jumped this week, with the benchmark Hang Seng Index gaining 7 percent, the most since December 2011.
"The whole aim of having a quota is to ensure stability when the link started, and we have basically reached stability," Li said. "Everybody should have a little patience."
The Hong Kong exchange is developing new products, which can be included in the link between Hong Kong and the mainland, Li said.