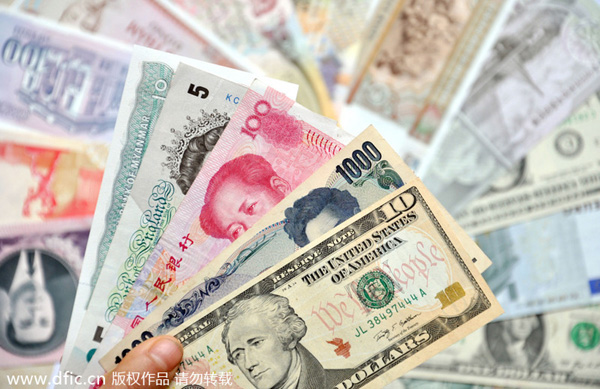 Photo taken on March 16, 2014, shows yuan (central) and other currencies in the picture. [Photo/IC]
BEIJING - The State Administration of Foreign Exchange (SAFE) released rules to further relax foreign exchange controls for foreign-invested enterprises on Wednesday to broaden the scope of foreign investment.
Starting from June 1, 2015, foreign-invested enterprises can make settlement of foreign exchange capital without submitting proof of use of funds in advance, according to a SAFE circular.
Previously, a payment settlement system was used when foreign-invested enterprises make exchange settlement to prevent speculative exchange settlement.
The move aims to further promote the use of renminbi and boost international trade and financing activities as well as increasing the flexibility and convenience of exchange settlement, said the SAFE.
The practice has been piloted in Shanghai's free trade zone (FTZ) last year and achieved good results with a stable capital inflow, according to the circular.
China's cross-border capital net inflows rose 38 percent year on year to a total of $55.1 billion in the first two months this year, reversing the capital net outflows which occurred between August-December last year, SAFE data showed.