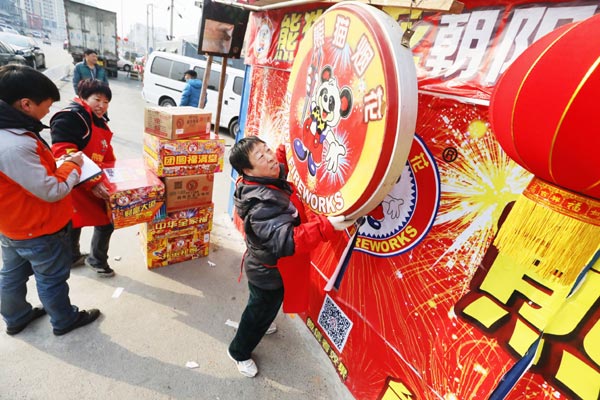 A retail site of Panda Fireworks Group Co Ltd in Beijing in February. The company plans to rename itself as Panda Financial Holdings and expand into Internet financing. [Photo/China Daily]
Capital market authorities in China have expressed concern over the growing number of listed companies that plans to change their names and core operations, after business declined due to the ongoing anti-corruption campaign.
The Shanghai Stock Exchange on Thursday sought more detailed explanation on financial holdings from a listed fireworks company that wanted to change its name.
Panda Fireworks Group Co Ltd on March 23 said it plans to rename itself as Panda Financial Holdings and expand into Internet financing. The Shanghai bourse said it has sent two letters to the company asking for more details on the planned move and warned investors that the proposed Internet financing business is risky due to market uncertainty and fierce competition.
In its reply Panda Fireworks admitted that its Internet financing business is not profitable yet and admitted that it could be exposed to losses during the process of shifting the core business from fireworks to Internet financing.
Like Panda, several high-end catering services providers, and alcohol, fine garment and jewelry makers and many other firms have experienced hardships and sharp share price slumps.
In 2014, XE Flavor Group Ltd, the former high-end catering and restaurant company, sold its catering services and dining-related trademarks and became an Internet services and cloud technology firm operating under the name China Science Cloud Technology Group Ltd.
Some companies, on the other hand plan to change their names just to be "in the fashion", by being related to emerging sectors such as the Internet, pharmaceuticals, clean energy and environmental protection, said industry experts.
"Some companies change their names following the name-changing procedures required by the regulators and law after they go through mergers, acquisitions or other forms of structural changes, while others just want to change their skin, to make investors aware that they are in a new domain," said Liu Jie, a stock analyst with Xiangcai Securities.
As many as 55 listed companies plan to change their company names, with at least 30 companies not undergoing any significant change in business structure, according to data provided by financial services provider Wind Information.