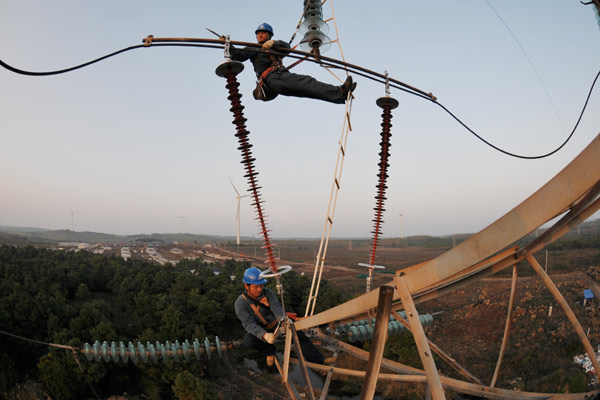 Workers check power transmission lines in Mingguang, Anhui province. [Song Weixing / China Daily]
BEIJING - The State Grid Corporation of China (SGCC), China's top power distributor, plans to build seven clean power transmission routes in a bid to boost development of new energies, it announced on Thursday.
SGCC spokesperson Zhang Zhengling said that the routes will include two extra-high voltage alternating-current projects and five extra-high voltage direct-current projects, which will link different regions when completed.
The company will also construct facilities with a capacity for 27 million kilowatts (kw) to integrate power generated by renewable energies such as wind and solar per year, Zhang said at a press conference in Beijing.
He did not specify a time line for the work.
Zhang said the SGCC's installed wind power capacity hit 87.9 million kw and that of solar power hit 24.45 million kw as of the end of 2014, with the combined capacities accounting for over 90 percent of China's total installed wind and solar power capacities connected to the power grid.
To promote new energy, the SGCC accelerated construction integrating clean electricity to the grid, with investment hitting 79.5 billion yuan ($12.9 billion) during the 2011-2014 period, the spokesperson added.