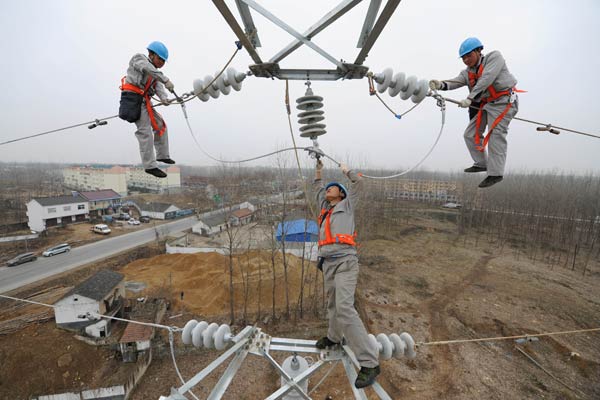 Workers fasten electric wires in a rural area in Chuzhou, Anhui province. China recently issued a reform plan aiming at encouraging competition and revamping the power pricing system. [SONG WEIXING/FOR CHINA DAILY]
China, the world's largest electricity consumer, is exploring the possibility of allowing private and foreign capital in some power-related businesses like sales and distribution as part of its ongoing reforms for the sector, a top planning official said on Wednesday.
The State Council had issued a reform plan, Opinions Regarding the Deepening of the Power Sector's Reform, in mid-March, that among other things sought to encourage competition in the sector and called for a revamp of the existing pricing system.
The plan allows gradual infusion of social capital in the power sales and newly added distribution business, while the electricity transmission business will remain with power grid companies.
A final decision on whether the power distribution and sales business will be opened up for foreign investment will be based on the "negative list" that is under preparation, Wang Qiang, a senior official of the department of economic system reform under the NDRC, told China Daily.
A negative list refers to specific areas where foreign capital is restricted. Foreign capital infusion is allowed in all the fields that are not on the negative list and the same also does not need approval from the government.
Currently China uses a catalog for the guidance of foreign investment industries. Policymakers have said that the government will actively work to explore the management model for a negative list.
The NDRC reform plan envisages China to further optimize its energy mix and improve the share of renewable energy in electricity generation. China had the world's largest installed electricity generating capacity of 1.36 billion kilowatts in 2014.
However, most of the electricity in China is produced from fossil fuels, particularly coal, and its burning often causes huge environmental problems like pollution.
"China will take steps to ensure that the share of clean energy in electricity production keeps on increasing," said Wang.
He said that China's electricity prices will gradually shift to a market-based system, except for households, agriculture, public utilities and public services.
The new plan is also deemed beneficial for setting up cost-saving mechanisms for power grid enterprises and to promote the marketization of electricity, said Li Ying, chief engineer of the State Grid EnergyResearch Institute.
The new measures will have a significant impact on profits of the power grids and will break their monopoly, said Deng Shun, an analyst with ICIS, a consulting company.
At present, the profits of State Grid are based on the difference between on-grid and retail tariffs. Grid operators have often been criticized for keeping their costs opaque through a lack of disclosure.
Grid companies will need to change their traditional business model and spend more efforts on cutting costs and improving efficiency.
The power sector reform will also have an effect on coal-fired electricity companies and the rising costs will have an impact on coal prices as well, he said.