In the fourth of a series on the 'new normal' economy, Zhong Nan highlights how the nation is developing policies that will be the fresh drivers of growth.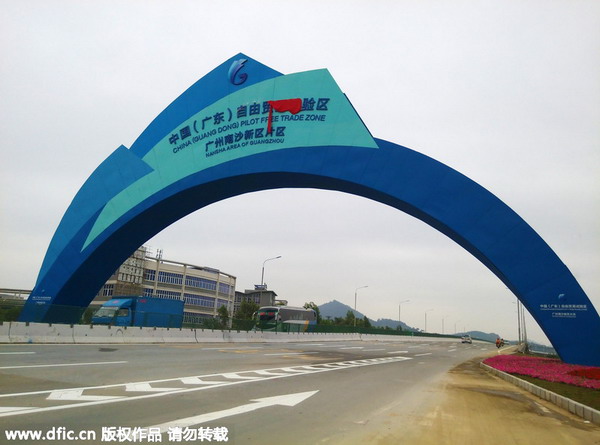 Guangdong Pilot Free Trade Zone is exploring new paths, Feb 28, 2015. [Photo/IC]
The expansion of China's free trade zones will create more places where reforms in foreign investment management, government supervision and service opening-up can be tested, according to experts.
The nation is going through a momentous transition to a "new normal" as it recalibrates its growth pace and builds on experience in a range of pilot programs.
Many of those programs have undergone trials in the China (Shanghai) Pilot Free Trade Zone, which was established in 2013. The results of those experiments will feature in three new FTZs in Tianjin municipality and Guangdong and Fujian provinces. More inland cities are expected to get approval for FTZs in the coming years.
Mei Xinyu, a researcher at the International Trade and Economic Cooperation Institute at the Ministry of Commerce, said that the three new FTZs will have "more local characteristics" than the pioneering Shanghai FTZ.
The Tianjin FTZ will focus on trade with Northeast Asia, shipping and financial leasing.
The Guangdong FTZ will be a crucial part of the second phase of Guangdong-Hong Kong-Macao cooperation, and will build on Hong Kong's advantages as a global financial center while the Fujian FTZ will emphasize cross-Straits trade and financial cooperation with Taiwan.
"These new FTZs have different reform focuses in terms of services, finance, industry, investment and trade.
Adding FTZs can help realize China's goal of steady growth and boost international investors' confidence by offering more flexible market access," said Mei.
Take the Tianjin FTZ, where shipping and associated activities will power its development. The city plans to pursue opportunities in shipping finance, ship registration and maintenance, and maritime law and arbitration. It will cooperate with Shanghai, an international shipping hub, to reach more ports around the world.
Lin Guijun, vice-president at the Beijing-based University of International Business and Economics, said that FTZs are appropriate bases for taking part in global economic competition and can be sources of innovation and create the momentum for sustainable development.