Interest-rate cuts, removal of curbs fail to drive up home prices in Feb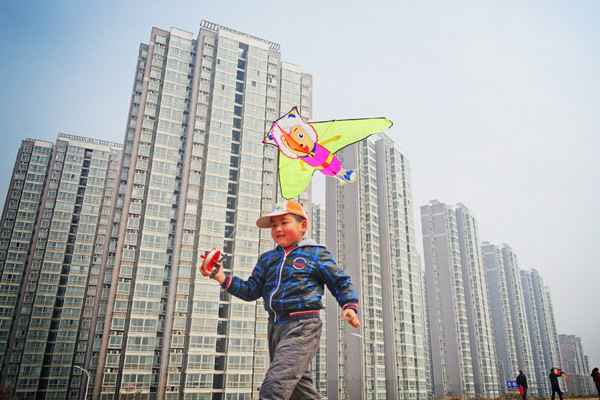 A boy flies a kite beside a massive residential project in Luoyang, Henan province, on March 8. Many local governments have ramped up efforts to bolster home sales after the moves to ease purchase restrictions barely worked. [Huang Zhengwei / For China Daily]
Two interest-rate cuts in three months and the removal of property purchase curbs have so far failed to revive China's housing market, with the pace of price declines accelerating in February.
However, the weak data could bring a policy windfall from the government with more support measures, analysts said.
New home prices fell in 66 of the 70 cities tracked by the National Bureau of Statistics, compared with 64 in January, the agency said on Wednesday. Prices rose in two cities and were unchanged in another two.
These findings translate into a 0.46 percent month-on-month decline, according to calculations from the research team of Bank of Communications Ltd, compared with a 0.43 percent drop in January.
Existing-home prices dropped month-on-month in 61 cities, the same as in January.
The picture was mixed in the first-tier cities. Existing-home prices in Shenzhen and Shanghai rose compared with January, but prices fell in Beijing and Guangzhou.
Liu Jianwei, an economist with the NBS, said the decline reflects slack sales during the Lunar New Year holiday, which fell in mid-February this year.
Previously released NBS data showed that in the first two months, residential sales slumped 17.8 percent year-on-year by area and 16.7 percent by value.
Liu said historical data indicated that sales in March would "significantly increase".
Persistent weak data have convinced observers that more stimulus policies are in the pipeline. Citing an expert with the Ministry of Housing and Urban-Rural Development, the Beijing-based China Times reported that the down payment ratio for second homes would be reduced to 50 percent from a minimum of 60 percent at present.
Adding to the hope was Premier Li Keqiang's supportive tone in a news conference on Sunday, when he said China would support demand from first-home buyers and those seeking to upgrade.
Jingsong Du, a property analyst at Credit Suisse Group based, said that comment was "the most accommodative in the past 10 years".