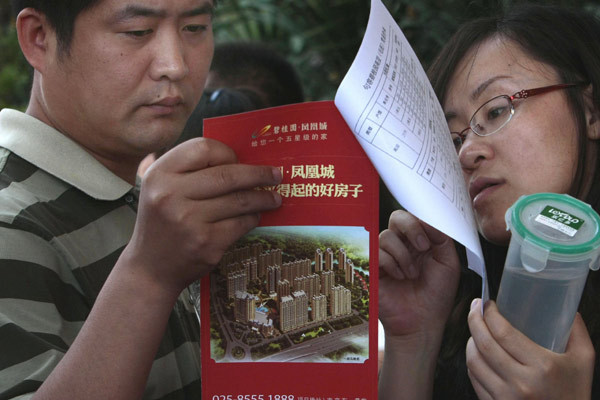 Two people read a pamphlet at a housing promotion fair in Beijing. Despite the current relaxed payment requirements and discounting mortgages, many buyers still stay on the sidelines in anticipation of further property price declines.[Photo/China Daily]
Zhou Bingguo expected to find a few buyers for the 20 apartments for sale next to Beijing's Central Business District in the first week of October, he said. It was the Golden Week holiday, traditionally a peak time for home sales, and China had just eased mortgage restrictions.
"Quite a few people visited, but nobody bought," said Zhou, a consultant in the asset management department of CBD Private Castle, a residential project. "People are still waiting for prices to fall."
China is lowering down payment requirements and discounting mortgages as declining housing sales put a drag on the economy. After four years of government restrictions to cool housing prices that had tripled since 2000, the central bank is reversing course, making it easier for homeowners to buy second properties. They are not likely to get back into the market, several analysts said, until prices become more affordable.
Bei Fu, a Hong Kong-based credit analyst at Standard & Poor's, said: "The property downturn will continue as buyers stay on the sidelines in anticipation of further price declines. In longer term, the central bank's latest move is a big step forward. It will allow more buyers to qualify for preferential mortgage rules and should help release pent-up demand."
Premier Li Keqiang is trying to prevent economic growth this year from drifting too far below the government's 7.5 percent target, already the slowest pace since 1990. UBS AG estimates that real estate, including goods such as electric machinery, chemicals and metals used in construction, accounts for more than a quarter of final demand in the economy.
The National Bureau of Statistics said on Oct 24 that new home prices fell in all but one city monitored by the government last month as easing of property curbs failed to halt a market downturn amid tight credit.
Prices dropped in 69 of the 70 cities in September from August, the bureau said in a statement, the most since January 2011 when the government changed the way it compiles the data. They fell in 68 cities in August.
Donald Yu, Shenzhen-based analyst at Guotai Junan Securities Co, said: "Prices will continue the downtrend for the rest of the year."
Weakening demand in a property market that "has lost power" will dim China's economic prospects, dragging growth lower in the world's second-largest economy, Li Daokui, a former central bank adviser, said in Beijing.
Housing "remains the key downside risk to the economy", Moody's Analytics economist Alaistair Chan wrote in an Oct 9 report.
The new rules give homeowners who have paid off their loans and want a second property the same advantages as first-time buyers, the People's Bank of China said.
Lenders can now give these second-home buyers a mortgage discount of as much as 30 percent of the central bank's benchmark rate. And buyers will need to provide a down payment of only 30 percent, a drop from the government's earlier 60 percent requirement, which Beijing, Shanghai, Guangzhou and Shenzhen increased to 70 percent last year to curb soaring prices.