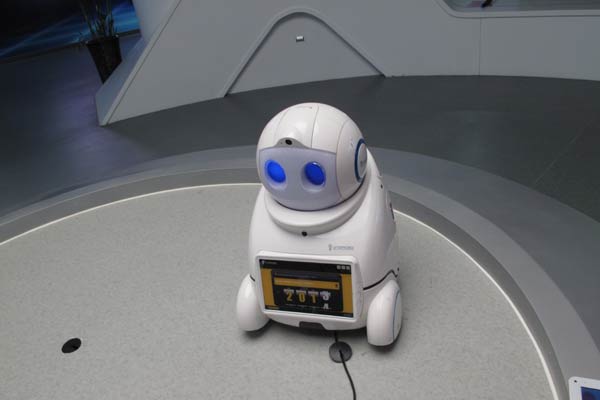 A voice-controlled robot sings children's songs at the software industry park in Linyi, Shandong province, Oct 11, 2014. [Dai Tian / chinadaily.com.cn]
It won't take long for consumers to control their domestic appliances via mobile phone, as the Smart Home project nears mass production, said researchers on Friday.
"The ongoing development is expected to be completed within two to three years before it's launched in the market," said Gopalan Babu, vice-general manager of a local company leading the project.
The Smart Home, incubated in Shangdong province, will enable users to remote control light, curtains and other appliances at home via mobile phone and also provide security against burglary and gas leak, according to technicians at Linyi Top Network Company.
Babu has been working at the software industry park in Linyi city, Shandong province, for three years, together with 47 Indian experts.
"It's easier for us to learn about the Chinese market," said the Indian IT engineer, adding that the working environment is nice.
The Sino-Indian software industry park, co-founded by Top Network and Indian SRM companies with a total investment of 560 million yuan ($91.5 million), has attracted more than 20 Indian enterprises since its trial operation in May.
The upcoming second round of promotion is expected to attract up to 200 companies to the industrial park, said Zhu Chuanbo, vice-president of Top Network.
Established in 1999, the Linyi-based company has been engaged in software development, research on Internet technology and intelligent engineering.