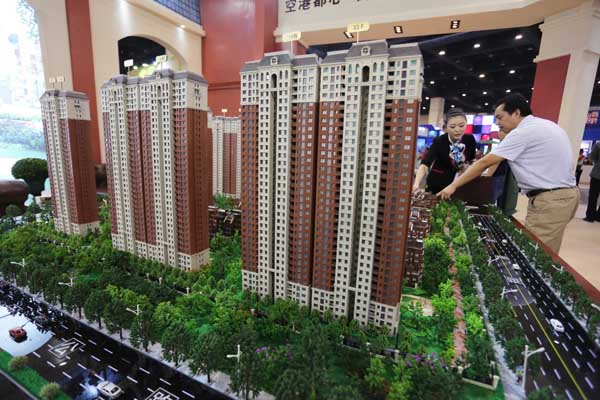 Potential homebuyers visit a housing expo in Zhengzhou, Henan province. Of the 46 cities that had restrictions on home purchases, only six — including Beijing, Shanghai, Guangzhou and Shenzhen — maintain those curbs. GENG GUOQING / FOR CHINA DAILY
Sources hint at early expansion of 'first-time homebuyer' conditions
A media report that China's four largest banks may ease terms for home loans has drawn wide attention, but analysts said that only broad-based changes in mortgage conditions could really reverse the nation's accelerating property downturn.
The lenders to which the as-yet-unconfirmed report referred are Industrial & Commercial Bank of China Ltd, Agricultural Bank of China Ltd, China Construction Bank Corp and Bank of China Ltd.
People who have fully repaid mortgages on previously purchased housing units will be treated as "first-time homebuyers" when it comes to financing for new residences, the 21st Century Business Herald reported on Monday, citing unidentified sources at ICBC and ABC.
First-time buyers in China are allowed to make smaller down payments and borrow at lower rates than other purchasers. If the report proves to be true, it might allow many buyers to acquire a second home under those same easier conditions.
Since 2010, anyone who had previously purchased a home has been treated as a second-time buyer, regardless of the status of their mortgage. Second-time buyers must make a down payment of 60 to 70 percent, compared with just 30 percent for first-time buyers. Rates on their mortgages are 10 percent above benchmark levels, while first-time buyers can borrow at benchmark rates or even a bit below.
One domestic bank held a meeting on Monday to discuss giving a 30 percent discount on mortgage rates to first-home buyers and using relaxed criteria to identify "first-time homebuyers", the Shanghai Securities News reported on Tuesday without identifying the bank.
The four biggest banks' branches in Shanghai, Beijing and Guangdong have either denied the report or said they have not received any notification from higher authorities.
ICBC said on Tuesday it will closely follow the property market and change relevant policies as necessary. But it did not say whether it had been notified to make any adjustment.
Industrial Bank Co Ltd has begun to classify people who have paid off previous mortgages and do not currently own a home under their names as "first-time buyers" who can borrow at the benchmark rate, website the Paper reported on Tuesday.
The bank later denied that report.
Of the 46 cities that had limits on home purchases, only six — including the four biggest cities of Beijing, Shanghai, Guangzhou and Shenzhen — have maintained those restrictions. But many prospective buyers are still wary.
Home prices dropped in August from July in 68 of 70 cities tracked by the government, the most since January 2011, when China changed the way it compiles the data.
Hopes that housing sales might be making a comeback this month have been dashed: during the first 20 days of the month, sales in 20 cities monitored by E-house China R&D Institute fell 2 percent month-on-month.
Zhang Dawei, chief analyst at Centaline Property Agency Ltd, said a possible alternative easing measure could be for people to be classified as "first-time buyers" as long as they do not have a residence listed under their names, whether or not they have ever had a mortgage.
UBS AG said that if the 21st Century Business Herald's report is confirmed, it would mark "the first major relaxation of mortgage lending rules". More loosening could come, including a lowering of down payments for first mortgages and an across-the-board mortgage rate cut, the bank said.
Yan Yuejin, an analyst with E-house, said that even if the report is true, there would be few beneficiaries since most potential buyers are real first-home buyers, who care most about whether mortgage rates for their purchases will be lowered.
Unnerved by weak sales, some local governments have already loosened credit requirements and abolished multiple-home purchase rules. Fuzhou, Fujian province, said on Monday that people who had paid off mortgages could be considered first-time buyers and enjoy preferential conditions.
The same policy has already been implemented in Nanjing and Hangzhou.
Hubei province reiterated that first-time buyers could borrow at an interest rate set at 70 percent of the benchmark.
Jiang Xueqing contributed to this story.