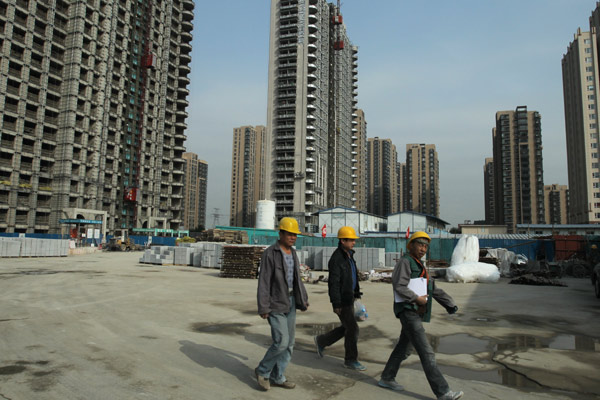 A construction site in Beijing. At least 22 land purchase deals were made nationwide in October for a combined space of 23.5 million square meters at an average price of 9,787.5 yuan ($1,600) per square meter, the highest since January this year. [Wang Jing / China Daily]
Demand for plots in Shanghai, Beijing surges after developers pay record prices
The property market correction is continuing, but developers are quietly snapping up land in first-tier cities, betting the sector will warm up again in 2015.
According to Centaline Group's market research unit, combined receipts from land sales so far this year in the four first-tier cities - Beijing, Shanghai, Guangzhou and Shenzhen - hit 451.9 billion yuan ($73.8 billion) as of Tuesday. The average price was 8,342 yuan per square meter, up 53.4 percent from 2013.
In Shanghai, a site at the southern end of the Bund was sold on Tuesday for 24.85 billion yuan to three joint buyers. The deal, the largest by value so far, works out to an average net price of 35,392 yuan per sq m.
As of Tuesday, Shanghai's land sales stood at 138.3 billion yuan, the second-highest among the four cities. But that was still far short of the record set in 2013, when 226.2 billion yuan went into the Shanghai government's coffers.
Beijing's land market was even hotter. Its land sales so far this year have hit 186.2 billion yuan, exceeding the full-year figure for 2013.
Land sales in Guangzhou and Shenzhou have each exceeded 50 billion yuan, said Centaline.
Zhang Dawei, chief analyst with Centaline, said the current pace means combined land revenue of the four cities this year will exceed last year's 524.5 billion yuan.
That is an extraordinary number, given the significant cooling of the property market this year. Home sales in the first 10 months dropped by 9.9 percent. And the average housing price has declined month-on-month for straight six months.
In 2013, by comparison, home sales surged 26.6 percent and the average price rose 11.5 percent.
Spurred by government stimulus measures launched at the end of September, home sales in first-tier cities in October hit the highest point so far this year.
However, the momentum cooled this month. Home sales in the first half of November rose 4 percent from the first half of October. Third and fourth-tier cities posted a 7 percent drop, according to China Real Estate Corp.
Fu Yichen, an analyst with the CREC, said premium sites in first-tier cities are rarely available, so the auctions drew capital from around the country. The record land sale in Shanghai will send a psychological signal to homebuyers, and in turn will push up transactions, Fu said.