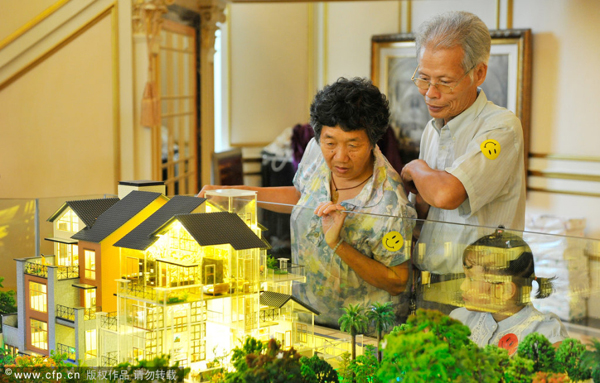 Citizens look at the residential building models in Zhongshan city, South China's Guangdong province, Aug 1, 2014. [Photo/CFP]
BOAO, Hainan - China's property market, which has experienced disparate fortunes across the country over recent months, is unlikely to see a hard landing, experts have said at an ongoing forum.
"It's indisputable that the property market of some cities is entering an adjustment period, but it goes too far to say the market has reached the edge of collapse," said Zhu Zhongyi, vice-president of the China Real Estate Industry Association, at the annual meeting of the Boao Real Estate Forum in South China's Hainan province.
The meeting, which opened on Wednesday and closes on Friday, has attracted more than 1,000 delegates from the country's real estate-related sectors.
China's property market started to fragment last year, as home prices eased in smaller cities while prices remained stubbornly high in big cities. But the market has been heading downward as a whole in 2014.
New home prices in 55 of an official sample of 70 major cities dropped month on month in June, compared with 35 in May. New home prices fell in the first tier cities of Shanghai, Guangzhou and Tianjin, but not in Beijing. However, used home sales declined in all four cities.
Other key indicators for the sector were also disappointing. The total floor space of commercial housing sold dropped by 6 percent year on year in the first six months of the year, while the floor space of newly constructed homes was down 19.8 percent.
Zhu attributed the situation to oversupply, lending difficulties and the bearish sentiment of home-buyers, which will continue for a while.
The market fluctuation comes alongside China's efforts to restructure and de-leverage its economy. The country's growth dropped to 7.4 percent in the first half of 2014 from a 7.7 percent pace last year.
Like the broader economy that is making a soft landing after staggering growth in past decades, the property bubble is also gradually deflating as no mass bankruptcies have been reported, noted Fan Gang, director of the National Economic Research Institute at the China Reform Foundation.
Li Mingkai, president of the Hong Kong-based Centaline Group, a leading Chinese real estate agency, estimated that home prices will continue to decline in the second half of 2014 but that the number of home transactions will slightly pick up at the same time.
For the next two to three years, both home prices and the transaction volume will stay at the same level as the second half, Li predicted.
Despite the generally positive views, the property market remained the top concern among economists. Shen Jianguang, chief economist at Mizuho Securities, said it's good for the sector to correct itself before a crisis takes place, but it remains the biggest risk for the economy. And caution should be taken to facilitate a soft landing.