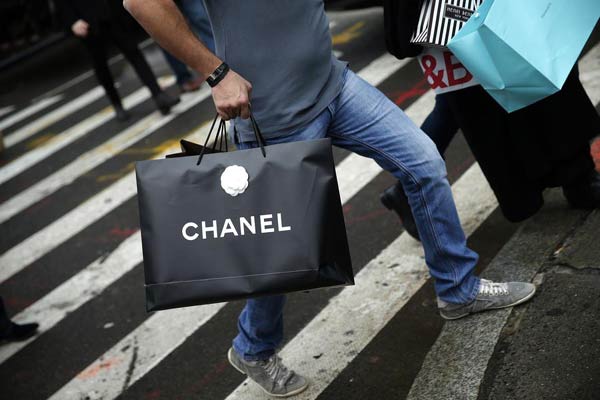 A shopper carries a Chanel bag along New York's fifth Avenue, Nov 24, 2014.[Photo/Agencies]
Chanel SA, the French luxury fashion and accessories house, plans to cut its prices in China, while raising them in Europe, it said on Tuesday, which may encourage other luxury brands to follow suit.
The price adjustments, starting April 8, will cover a variety of items including three of its most popular handbags-the 11.12, 2.55 and Le Boy.
Considered the world's second-biggest luxury brand behind LVMH's Louis Vuitton, Chanel will progressively standardize prices across other products this year, but worldwide prices will not fluctuate more than 10 percent above or below the global euro benchmark, Bruno Pavlovsky, its president of fashion, told Reuters.
The price adjustments would help fight against what it called "parallel resell markets that are facilitated by price differences and hurt the business, the image and character of the brand".
In Europe, the 11.12 and 2.55 bags will rise to 4,260 euros ($4,517) from 3,550 euros, and the Le Boy from 3,100 euros to 3,720 euros.
But in China the prices will be cut to 30,000 yuan ($4,816) from 38,200 yuan on the first two, and from 32,700 yuan to 26,000 yuan for the Le Boy, albeit still higher than the European prices.
Statistics from Bain & Co show that sales in the Chinese mainland's luxury goods market declined 1 percent last year compared with 2013, while mainland consumers spent 380 billion yuan overseas, accounting for 30 percent of the whole global luxury market.
"High prices are one of the main reasons for last year's decline in luxury consumption in the Chinese mainland," said Hong Junjie, director of the research center for luxury goods and services at the University of International Business and Economics in Beijing.
Hong said many luxury brands have adopted a high-price strategy in China to take advantage of the Chinese consumer psychology that high prices mean higher quality and taste.
But the escalated prices paid in China have forced many to buy overseas, and Hong said Chanel's latest move could well now encourage other companies to adopt a similar approach.
Kering Group, the world's third-largest luxury group, which owns the Gucci and BV brands, refused to comment on the issue on Wednesday.
"Chanel is likely to see an immediate increase in sales as a result (of the falls in prices) in the mainland," Hong said.
One Beijing shopper, 26-year-old Wang Jing, who already owns several Chanel handbags bought from Europe, told China Daily she would certainly be buying another 11.12 for her mother, but this time in China, "as soon as the price is cut".
Gao Nan, a 30-year-old overseas buyer based in Paris, said her business will be affected by the price adjustments to a degree, but that there will be still a healthy market in Europe for buying vintage luxury goods on behalf of clients in China.
"The overall price (of those) will continue to increase in the future and many consumers still want to buy classic items before prices rise," said Gao.