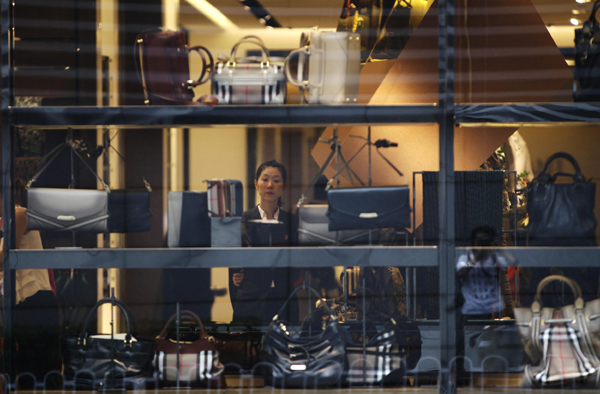 A saleswoman at a Burberry shop in Beijing. The UK-based trenchcoat maker's chief financial officer said the government's crackdown on corruption has hurt sales. [Photo/Agencies]
Two of the world's leading luxury goods makers have reported toughening market conditions in China, which they blamed on the government's ongoing austerity measures and changing consumer habits.
The world's largest luxury group LVMH Moet Hennessy Louis Vuitton SA said it had seen a significant slowdown for its goods across Asia in the third quarter of the year, and in China demand for its handbags and cognac, particularly, had slowed.
However, the company said sales in Europe and the United States had improved as it reported group revenue for the latest quarter rose 5.7 percent to 7.4 billion euros ($9.4 billion).
The UK-based trenchcoat maker Burberry Group Plc also released a trading update for the first six months that indicated good growth from China, but not the double-digit progress it had been making in previous quarters.
Burberry Chief Financial Officer Carol Fairweather told Reuters the government's crackdown on corruption had hurt sales, as had war in the Middle East and the impact of the Ebola virus on travel. But she was confident it was outperforming rivals.
"In the second quarter, we still saw high single-digit (sales) growth in Asia, and from the Chinese in China and when they were traveling," she said.
Fairweather also noted that in Hong Kong, Burberry posted double-digit sales growth in both the first and second quarters.
The company's first-half revenue was $1.76 billion, a 14 percent rise overall, which Christopher Bailey, chief creative and chief executive officer, said reflected the company's "ongoing brand and business momentum".
"Looking ahead, while mindful of the more difficult external environment, we have never been better prepared internally for the all-important festive periods, with our teams focused on delivering outstanding products and experiences, alongside continued investment to drive productivity and profitable growth over the long term," he said.
In its most recent Hurun Luxury CPI 2014 Report, released in late July, the Shanghai-based research institute found numerous areas of spending in China had been hit by the government's campaign against excessive spending, such as the price of high-grade banqueting in Shanghai and sales of traditional Chinese liquor, such as Kweichow Moutai.
Just two years ago luxury spending in China hit record levels, making the country the world's largest luxury consumer market, according to management consultancy firm Bain &Co.
However, the same firm is now predicting that luxury spending in China will shrink 2 percent this year, due to what it called "greater controls" and "changing consumption patterns".
The luxury retail landscape, however, is not all bleak.