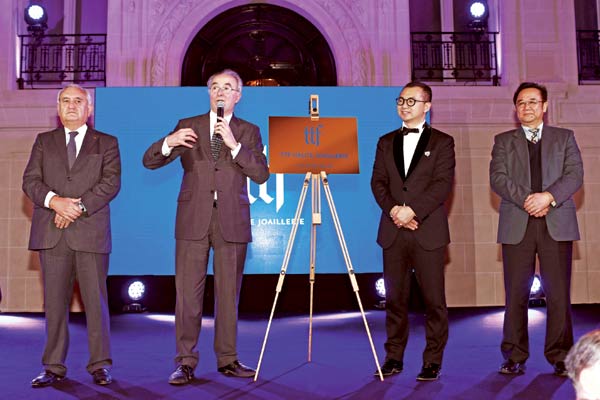 From left, Jean-Pierre Raffarin, former French prime minister; Christian Sautter, deputy mayor of Paris; Wu Fenghua, president of TTF; and Xia Yang, deputy head of Futian district, Shenzhen, at the opening ceremony of the jeweler's headquarters in Paris. CHINA DAILY
Innovation and brand-building key to challenge big competitors in the West
An increasing number of Chinese jewelry designers are starting to challenge the dominance of top Western luxury jewelry brands, which have continued to briskly open stores in China in the past few years.
From the Western-Chinese fusion style of Bao Bao Wan to more traditional Chinese brands like Chow Tai Fook, Chinese luxury jewelry has increasingly developed a culture-infused style adapting iconic Chinese images, giving it a distinctiveness that has drawn attention from around the world.
"China is booming and so is its high street. Chinese jewelry designers are vying for a place in China's evolving fashion landscape," says Shi Hongyue, deputy secretary general of the Gems and Jewelry Trade Association of China.
"Although most of China's wealthy elite still put a premium on famous imported brands, Chinese jewelry designers appear to be working hard to get this demography more interested in homegrown design."
Retail spending on jewelry in the country reached 470 billion yuan ($76.6 billion) in 2013, an increase of 107 percent over two years earlier, according to trade association figures.
Shi says Chinese consumers' appetite for jewelry will continue to grow, fueled by their growing wealth, adding that he expects jewelry to become one of the most sought-after possessions after real estate and automobiles for the growing middle class.
"The rising purchasing power of Chinese consumers will provide the fundamentals for rapid market growth, and China is very likely to replace the United States to become the world's largest consumer market for jewelry by 2020," Shi says, adding that jewelry consumption in the country has maintained a double-digit annual growth rate in recent years.
Chinese jewelers are investing heavily in branding their own independently designed products through distinctive, trend-setting styles and marketing, aspiring to make the country the birthplace of world-famous jewelry brands.
"With the brisk growth of the country's jewelry market, China's jewelry industry is facing unprecedented development opportunities and its prospects are rosy," says Fu Yonghe, director of the jewelry design department of the Beijing Institute of Fashion Technology, China's first jewelry design school.
"It is the right time for Chinese jewelers to follow the trends to cultivate their own brands."
Fu says China has become the world's largest jewelry processing country by making pieces for many well-known international brands, so the level of craftsmanship in China is globally recognized.
However, there still are few world-class Chinese luxury jewelry brands. That is not only because many local brands lack independent research and development capabilities, Fu says, but also, and most importantly, it's caused by a gap in brand-building awareness that is a hallmark of their Western peers.
"Chinese jewelry is cheaper than international big names, but a price war is not a sustainable strategy. Enhancing design innovation capabilities and strengthening brand-building efforts are vital for Chinese jewelers to gain a stronger foothold in an increasingly intense market," Fu says.
Some Chinese jewelers have become pioneers in brand-building campaigns and have boldly moved into foreign markets. One of the most successful is Wu Fenghua, a jeweler from Shenzhen, who launched his internationally recognized jewelry brand TTF Haute Joaillerie in 2002.
Wu says he is committed to the production of collectible fine jewelry. His clients include famous French filmmaker and screenwriter Anne Fontaine and Chinese actress Qin Lan. Many TTF designs are famed for bringing a fresh perspective to jewelry though a fusion of Eastern and Western aesthetics.