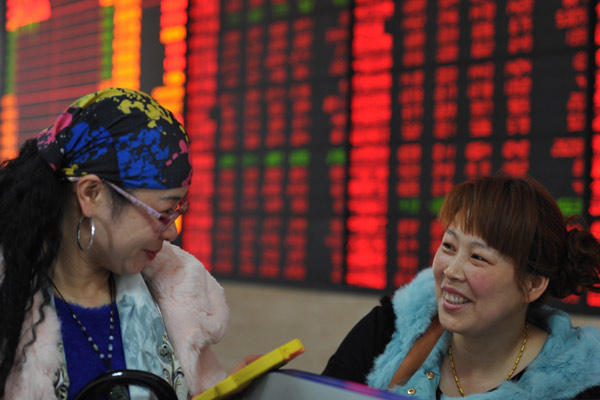 Stock investors at a brokerage in Fuyang, Anhui province, on March 16, 2015. The Shanghai Composite Index surged by 2.26 percent to close at 3,449.3 points on March 16, the highest level since 2009. [Lu Qijian / For China Daily]
The China Securities Regulatory Commission has reportedly launched comprehensive on-site inspections of financial institutions, a move seen as a sign that the anti-corruption campaign is widening into the securities and financial sectors.
The regulator will investigate 200 financial institutions including securities firms, mutual funds and private equity funds, focusing on possible wrongdoing such as bribery and embezzlement, the Economic Observer reported, citing a senior executive of a PE firm.
The CSRC on Monday did not respond to China Daily's questions on the report.
However, executives of several financial institutions confirmed that such investigations had taken place, Chinese media reported.
The move is being seen as the CSRC's implementation of a State Council mandate to "enhance internal control and external oversight of financial institutions and to contain illegal and criminal practices".
Analysts said that the inspections underscore the CSRC's determination to heighten regulatory deterrence ahead of a switch in the procedure for initial public offerings, which would do away with prior approval and instead only require registration.
The emphasis of the new IPO system would be information disclosure rather than financial performance.
"Previous oversight focused on prior approval, but there has been a lack of regulation of both companies and relevant intermediary agencies after IPOs or mergers and acquisitions," said Dong Dengxin, who researches financial markets at the Wuhan University of Science and Technology.
Fraudulent information and insider trading are among the most prevalent malpractices in China's capital market that need to be tackled by the regulator, Dong said.
Last week, the CSRC stepped up the penalties for wrongdoing in the securities market by expanding the scope of the lifetime market ban from listed companies to private ones.
Some analysts speculated that the CSRC's latest investigations may lead to the downfall of more senior officials in the securities and financial sector, which have been relatively immune to the anti-corruption campaign.
So far, two senior bankers - Mao Xiaofeng, the president of China Minsheng Banking Corp Ltd and Lu Haijun, board member of Bank of Beijing Co Ltd - have been put under investigation for "suspected serious violations of discipline".
The People's Bank of China has also reportedly ordered its local branches to review their compliance procedures.
Equity investors on the mainland shrugged off the CSRC's move, with the Shanghai Composite Index surging 2.26 percent to close at 3,449.3 points on Monday, the highest level since 2009.