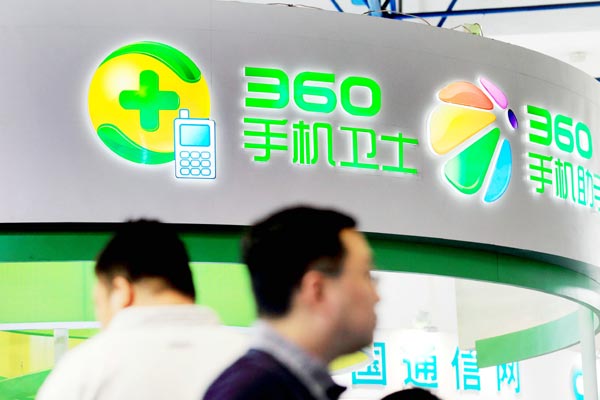 A billboard featuring 360 mobile security software, produced by leading Internet company Qihoo 360 at a recent international telecom expo in Beijing. [Photo/China Daily]
Three main systems emerge as market leaders in China
With the proliferation of smartphones in China, the competition in mobile phone security applications has become equally fierce, revealing a growing disparity among many rival products.
According to new research from Beijing Big Data Information Consulting Co Ltd, 360 Mobile Security-produced by leading Internet company Qihoo 360-has become the most popular application on the market with 60.5 percent of Qihoo 360 users now running the program at least four times a month.
Tencent Mobile Manager, from the company of the same name, is the second most popular being run with a 38.2 percent share, with Baidu's Mobile Guard in third slot, with 23.5 of users actively running the program on a regular basis.
Wang Fei from Beijing Big Data who compiled the figures, says 360's success can be largely attributed to its strong brand image and time in the market, and credits the innovative system with managing to intercept four major trojan viruses towards the end of last year.
"The newly introduced geek version of 360's mobile phone security application can not only help users ward off viruses, but understand the meaning of various authorizations of certain software and protect privacy, resulting in an good overall user experience," says Wang.
Tencent Mobile Manager has been working hard to grow its brand presence by working closely with domestic mobile phone manufacturers to have the app pre-installed in handsets, which has helped it attract more younger users, says Wang.
Toward the end of last year the application is credited with successfully managing to intercept a mobile phone payment virus which steals users' bank account details, including passwords.
Baidu, meanwhile, has also been making its own meaningful attempts at product innovation with its Mobile Guard. During the third quarter of last year it managed to identify viruses which produced incessant pop-up ads-an irritant for users but also a threat to security in that they also managed to wipe huge amounts of data in the process.
Baidu has been working with security institutions, developers, application stores, banks, and third-party payment service providers and operators to strengthen its mobile protection systems, says Wang.