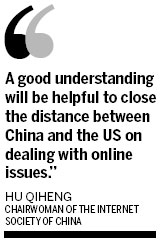 Cooperation is a "must" for China and the United States to deal with Internet issues, especially online security, and to cope with rapid developments in cyberspace, officials and experts from both countries said on Tuesday.
Online security has become a key issue between China and the US, and the two countries have common interests and responsibilities, Qian Xiaoqian, vice-minister of the State Council Information Office, said at a US-China Internet Industry Forum in Beijing.
To maintain network security, the two countries should further establish mutual trust and make efforts to solve problems, because it will improve the development of the Internet between them and have positive effects across the world, he said.