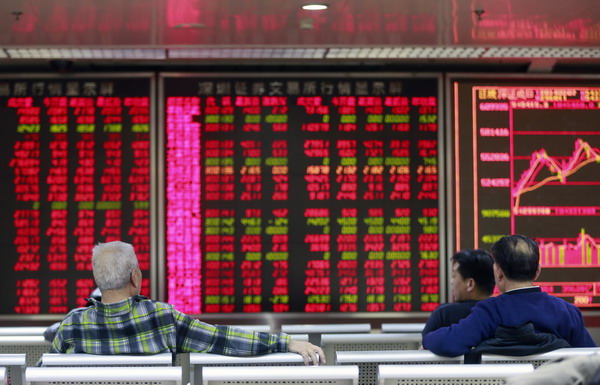 Investors at a securities brokerage in Beijing, Feb 7, 2014. [Feng Yongbin / China Daily]
Move seen as legal foundation to push the registration-based system for new issues
The National People's Congress, the country's top legislature, is likely to approve the amendment to the Securities Laws this year, paving way for the much-awaited reform of the new-share sales mechanism.
The draft amendment, the most comprehensive revision of the law since it was introduced in 1998, will be reviewed by the Standing Committee of the NPC in late April, Yin Zhongqing, deputy director of the finance and economic committee of the NPC, said on Tuesday.
"If everything goes smoothly, the official amendment will be issued this year," Yin said at a news conference in Beijing.
The draft amendment, reviewed and approved by the NPC in July last year, added more than 100 pieces of content, modified about 100 existing ones and deleted about 20 ones, according to Yin.
For instance, the revision expanded the definition of securities exchanges and added new rules on cash dividends to small shareholders. It also expanded the business scope for securities firms and scrapped administrative approvals for domestic companies to issue securities in overseas markets.
The primary purpose of the comprehensive amendment is to promote a market-driven securities sector, rein in administrative control and intervention, enhance regulators' oversight and to better protect individual investors' interest, Yin said.
The amendment of the Securities Law has been viewed as the legal foundation for China to push forward the registration-based system for initial public offerings, one of the most important reforms of the country's capital market.
Discussion about the reform has been circulated for years but no substantial progress can be made before the revision of the Securities Law.
Ouyang Zehua, head of IPO regulation at the China Securities Regulatory Commission, said that the new Securities Law will lay out the basic rules for share sales and the regulator will transfer the power to the stock exchanges to make arrangements under the trading rules on different boards.
"The new IPO system will put an emphasis on information disclosure and the regulator will not make rigid requirements on financial performance," he said.
Current securities regulation requires companies to have a record of profitability in order to be qualified for IPO applications.
Analysts have said that the current approval-based IPO system has led to government endorsement on the profitability of the companies and distorted the IPO supply and demand in the market.